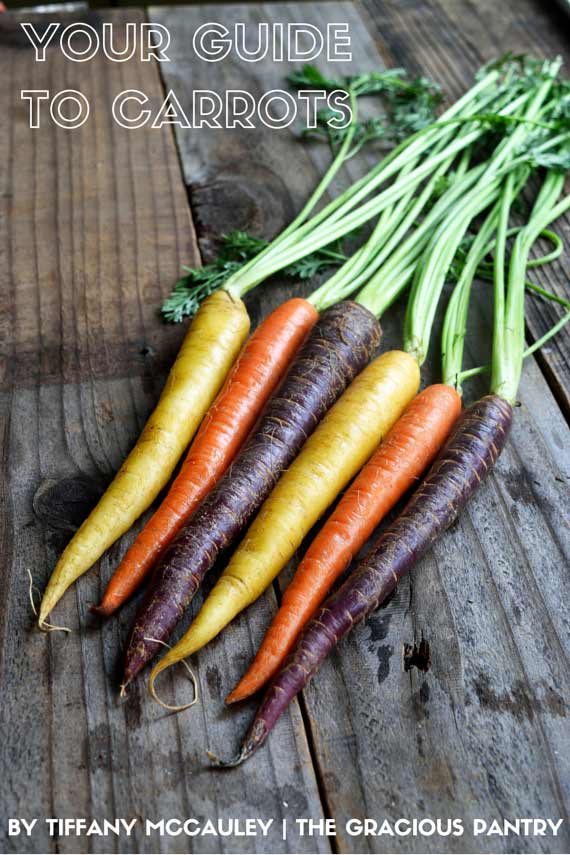 I know, I know. Who needs a guide to carrots? They seem like a basic veggie and most people eat them with dip or sliced on a salad. But there is actually quite a bit to learn about carrots! Things like:
How to store them best?
Are baby carrots really bleached?
Do I just discard the green tops?
Can I freeze them?
What spices go best with carrots?
Believe it or not, these fabulous root veggies are one of the best pieces of produce you can have in your kitchen simply because it takes them so long to spoil if stored properly! And there is so much more you can do with carrots than eating them raw. So lets begin…
CARROTS IN THE KITCHEN
These lovely, healthy root veggies are technically in season in summer and fall, although you can find them all year long. We all know they are rich in Beta Cartene, but did you know they are also a good source of Thiamin, Niacin, Vitamin B6, Folate and Manganese, and a very good source of dietary fiber, Vitamin A, Vitamin C, Vitamin K and Potassium? (1) Carrots are often considered a super food, though most folks just remember that they are good for your eyesight.
Carrots come in many colors! In fact, purple carrots have the same wonderful anti-oxidants that blueberries have. But eat them raw, because cooking them can leach out those wonderful nutrients along with the color!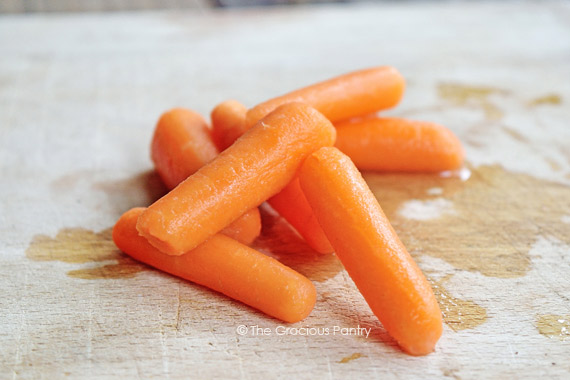 BABY CARROTS
Baby carrots are not bleached. This myth has been around for a very long time and popped up as a reaction to the white film that can sometimes build up when they sit in the fridge for a while.
The reality is that baby carrots and much of the produce we buy does get washed in chlorinated water. It's a food safety precaution and carrots are not the only produce subjected to this process. But they are also then rinsed with regular water to remove anything left behind. So baby carrots are no more bleached than regular carrots or many other types of produce.
The white residue you may see on your baby carrots is most likely the carrot just drying out after being in the fridge for a while. Storing them in water will help with that. that's why packages of baby carrots typically have water in them. They have no skin to protect them from drying out, so the water is essential.
While true baby carrots are a hybrid of the regular carrot and are indeed very small and "snack-sized", they are not what you buy at the grocery store. What you buy at the grocery store is simply 2 inch pieces of larger carrots that have been cut to size and shape.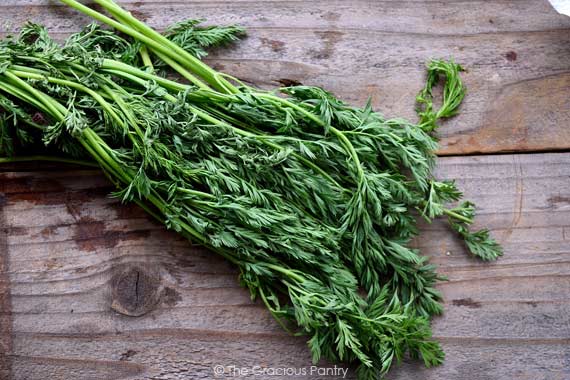 WHAT TO DO WITH THE GREENS/TOPS
Yep, the greens are edible as well! Add them to stock for seasoning (instead of carrots which usually get tossed once the stock is done), sprinkle some chopped greens over a salad or make a carrot greens pesto! They are a wonderful addition to soups as well, not just the stock.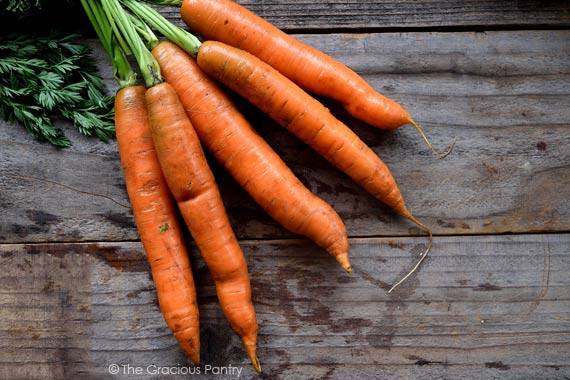 SELECTING CARROTS
It's always more budget friendly to buy bunches of carrots with the green tops. Look for fresh, leafy greens, firm carrots with a rich color, regardless of the color you choose. Carrots should never be rubbery or bendable. It's natural for there to be a little dirt on them when you buy them, especially if you buy them at a farmers market. A quick wash at home will take care of that.
STORING CARROTS
It's best to cut off the carrot greens (tops) and store them separately from the carrots themselves. Once the greens are removed and the carrots washed, store them in a container of water, changing the water every so often if it gets cloudy. Carrots can last weeks this way. (2)
FREEZING CARROTS
Freezing carrots is always a great option, particularly if you grow them and harvest more than you can eat. But carrots need to be blanched before freezing. It's best to slice them or cut them into strips, blanch them in boiling water for about 2 minutes, transfer them to a bowl of ice water to cool them off quickly, and then transfer to a cookie sheet. Spread them out in a single layer and freeze. Once frozen, you can transfer them to a container or zipper-top bag.
PREPPING CARROTS
Carrots can be sliced, diced, cut into strips or used whole. The way you prep carrots will depend mainly on the recipe you are using them in. But I find it's easiest to slice them ahead of time for things like soups and salads. Slicing them ahead of time also makes me more inclined to use them in cooking simply because they are prepped and ready to go.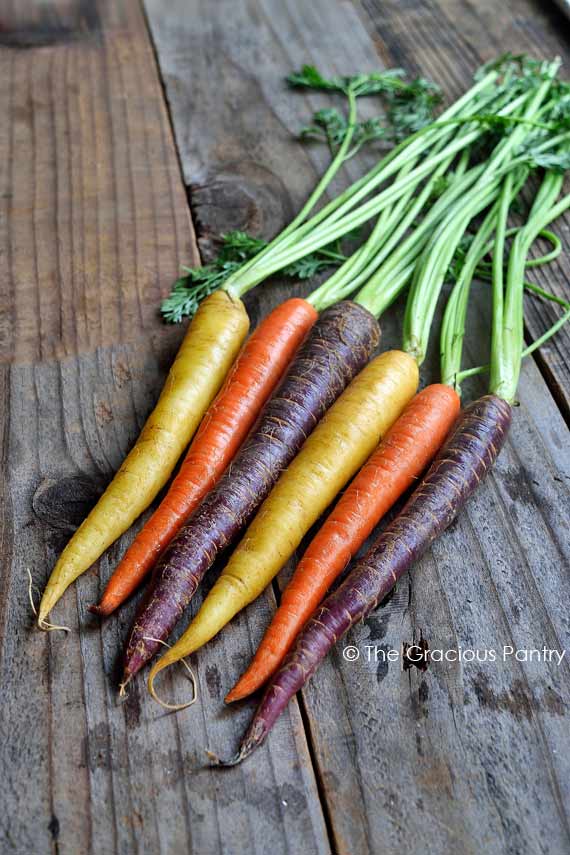 COOKING CARROTS
Carrots are best steamed when eaten on their own. Boiling removes much of their good nutrition. Remember not to overcook them. They should be just slightly firm when done. Sort of like al dente pasta. Over cooked carrots are mushy, which is okay if you want to put them through the blend for anything. But otherwise, try to avoid this. Eating them raw (especially the purple carrots) is also an option. But barbecued or cooked in a pan, they caramelize wonderfully and it adds an incredible amount of flavor!
SPICE AFFINITIES
Many spices go well with carrots, but there are some that stand out.
Butter
Cinnamon
Dill
Ginger
Honey
Lemon juice
Maple syrup
Orange juice
Flat-leaf parsley
Tarragon
Thyme
CLEAN EATING RECIPES USING CARROTS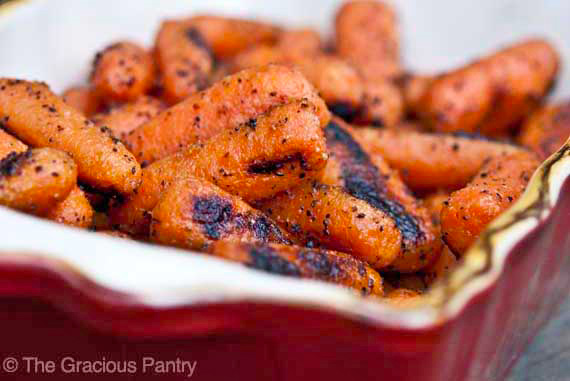 Clean Eating Barbecued Carrots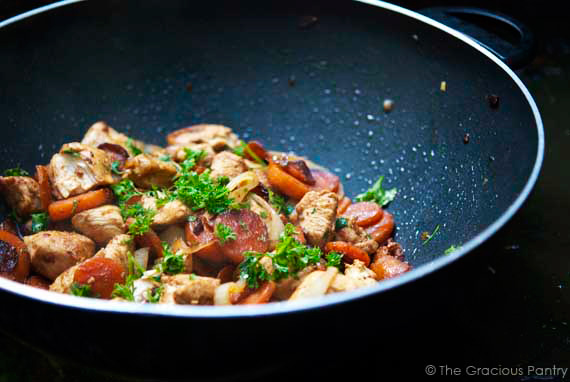 Clean Eating Wok-Style Chicken & Carrots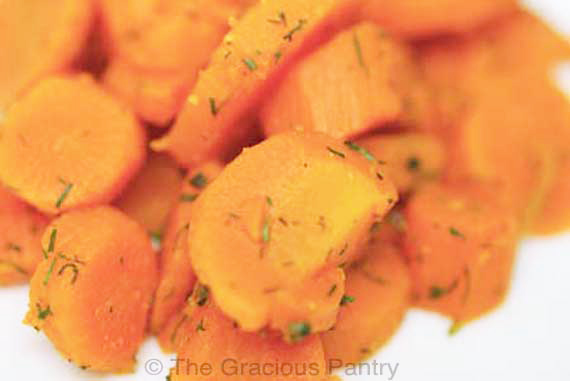 Clean Eating Caramelized Dill Carrots
SOURCES