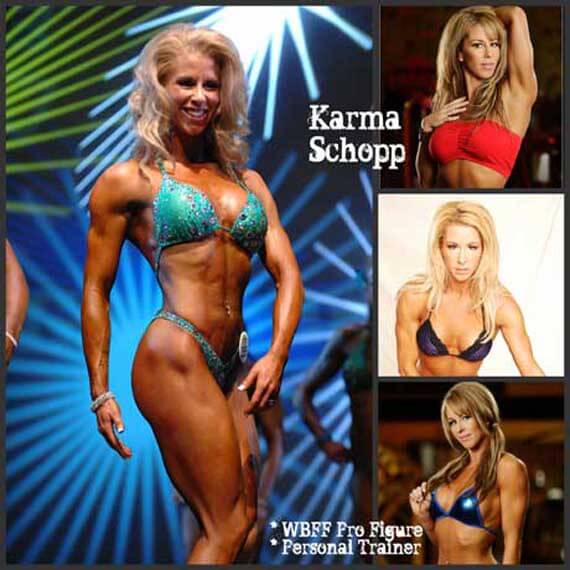 Every year at this time, people return to their local gym in droves. The promise of a fresh start, better health and a bikini body by June are enough to crowd the changing rooms with overweight bodies and create waiting lists for each piece of equipment that go on for at least three pages.
But usually, by mid March, things die down again as people hit the snooze button a few more times instead of lacing up their tennis shoes. It's a common cycle seen year after year, and it's a cycle that is probably as old as the gyms themselves!
So how can you be one of the people who actually stick with it this year? How do you get past that mid-March drop-out syndrome and finally keep that one nagging New Years resolution – to get fit? I thought the above photo might give you a little incentive. But I also want to back that up with some expert and reliable advice from people who know what it takes to get (and stay) fit.
I interviewed 4 personal trainers, one of which is a WBFF Figure Pro (pictured above), to find out what it takes to get back to the gym and stick with it.
Let me introduce you to each of them.
THE TRAINERS:
Karma Schopp (KS) – Personal Trainer, WBFF Pro Figure, Freelance Writer, Fitness Model, Online Personal Training Specialist who was certified with the American Council on Exercise (ACE) in 2006 and has been coaching various sports teams since she was a teenager.
Jenn Givler (JG) – Certified Personal Trainer and Fitness Nutrition Specialist through ISSA. She is also in the process of getting a 200 Hour Yoga Teacher Training certification. She has been in the fitness industry for the last 15 years as a personal trainer, aerobics instructor, nutrition coach, and yoga teacher. (Contact)
Gale Compton (GC) – Certified Personal Trainer for one year. She has an impressive resume starting with the National Exercise & Sports Trainers Association (NESTA), B.S. University of Maryland, Nevada Police Academy (Las Vegas), and the US Army. She specializes in Fat loss, Lifestyle Nutrition, Weight Training, Muscle Confusion, Core Training, Toning, Half Marathon Training. (Contact)
Jenni Teresi (JT) – Certified Personal Trainer for one year. Received certification (CPT) from National Academy of Sports Medicine (NASM).  She is a physical education and health teacher for kindergarten -8th grade students (such a valuable job these days!) and a group fitness instructor. (Contact)
HOW TO GET BACK TO THE GYM AND STAY THERE.
I asked these amazing ladies the following 10 questions and got some terrific responses and advice!
What are some basic reasons for somebody to get off the couch and get to the gym?JG: "I think the biggest unexpected benefit people get from working out is feeling energized and empowered. Of course, weight loss and lookin' good are wonderful too – but nothing beats having energy for the kids, tackling home projects, and being excited for life everyday… oh – and let's not forget sleeping better! Exercise definitely helps you relax easier at night, and sleep more soundly."JT: Exercising greatly improves your quality of life!  There are so many benefits of exercise.  First, it is such a stress reliever!  Exercise helps you blow off some steam after a hard day at work.  Regular exercise gives you confidence and improves your self-esteem.  It also prevents diseases.  Regular exercise prevents type II diabetes, heart disease, osteoporosis, and even some cancers.  I strongly encourage exercise as a tool for preventative medicine! Regular exercise helps manage your weight, it gives you energy, and will help you sleep better at night.  The benefits of regular physical activity are so great!
How quickly will the average person start to see results if they exercise regularly? KS: There are several factors that influence the answer to that question.  Internally, a person can notice change almost immediately.  In regards to what they physically see, it all depends on their workout routine, the intensity, their body type and lifestyle as well as what their meal plan looks like and how well they stick to it.If you want results and follow a plan that's custom designed by a trusted professional, then there's no reason why you wouldn't notice a leaner you evolving within a couple of weeks.JG: If someone consistently exercises just 4 times per week at 30 to 40 minutes per session, they can expect to start seeing results in 4 to 6 weeks. If this same person exercises a bit more, and also eats clean, they can see results much faster.
What's the best way to get started for a beginner? GC: Weight training is an absolute must for countless reasons, some of them being increased metabolism, lean muscle mass, bone protection, increased immunity,  toned or defined muscles…depending on preference. I would recommend alternating cardio with weight training and working out 6 days a week if possible. Cardio should be no more than 30 minutes and weight training less than an hour. Youtube is the perfect place to see correct form and how each exercise is performed. I recently emailed a friend a workout, she got all the exercises off Youtube and put on a DVD.JG: The simplest way to start is by walking. You can walk around your block, on a treadmill, at the park, take the kids for a walk… walking is so easy, versatile, and accessible.
Is there a standard for loss of inches?JT: There isn't a standard loss for inches, but it is much easier to achieve with a two-part plan.  Exercise and nutrition.  I measure all of my clients monthly to monitor their results.  My avid exercisers see great results!  I have seen 2-3 inches of loss from the midsection and I have seen 5 inches of loss as well within a month.  My clients who can stand to lose a couple extra pounds will see more dramatic results because they have more to lose.
What advice would you have for the person who seems to be losing inches, but not weight on the scale? (And visa versa)KS: If someone is losing inches and not very much weight, that's actually a good thing.  It means your body composition is shifting.  Fat is melting away and muscle is forming.  I'm glad you asked this question.  You shouldn't use just the scale to measure your progress.  Taking measurements as well as seeing the change in how your clothes are fitting are both really good indicators as to what's happening.Now, if you're losing weight but the inches aren't coming off, there could be a variety of factors for this.  And you'll want to take a very close look at what you're doing to remedy the situation.  If you lose a bunch of weight really fast but aren't noticing too much of a difference in your size – it's quite possible that your muscle is being sacrificed, maybe some of the weight is just water weight or you're holding on to to water….there could be a multitude of reasons.  Regardless, this isn't a good sign.  Re-evaluate the method of your weight loss and consult a professional to help get you back on the right track.
What's the best advice you have for avoiding injuries for beginners?KS: Listen to your body.  Don't wait until it's screaming at you to act on the pain signals.  Also, when you know the difference between muscle fatigue and soreness from working out and the onset of an injury, it'll help you take your workouts in the direction you should.  Safety and proper form are priority number one.  While it feels awesome to be kicking butt in the gym, don't let your Rock Star ways get you in trouble.
Any advice for dealing with muscle soreness?JT: I always recommend active recovery in dealing with muscle soreness.  Active recovery is low-impact aerobic exercise to get increased blood flow.  Yoga is also a great way to deal with delayed onset muscle soreness (DOMS).  DOMS is very common, and hard to prevent.  Don't let it discourage you!  It just means those are muscles that you haven't worked that hard lately.  If your DOMS is quite painful, an anti-inflammatory will help you ease the discomfort a bit.GC: Warm baths, massage (my favorite) and here are some foods that actually help…fresh or frozen cherries, berries, walnuts, dark vegetables citrus fruits, whole grains…basically foods high in vitamins C & E.grains are rich in vitamin E.
Any tips or tricks for finding the time to get to the gym?JG: There is no magic answer for this one… You really just have to decide that being healthy is a top priority, and that when you make the time, you're going to stick to it and not let anything get in your way. It helps to have a great support system – people who understand your needs and honor them.JT: First, get your workout in first thing in the morning.  If you get it out of the way early, it will set your mood for the day!  It will give you a lot of energy to keep you going throughout your day.  Sometimes taking a Zumba class or spinning class will help keep you motivated and will hold you accountable to go to the gym at a certain time.  Those classes are also really fun so it is a win/win situation!KS: The trick to finding time to go to the gym is looking for it.  If you have 30-45 mins a day to sit at your computer and play around, you have time to go to the gym.  While some days it'll be difficult to fit everything in that you want to get done, the best thing to do is make working out a part of your every day routine.  That being said – don't always look to the gym for exercise.  There are plenty of other cool options out there.  Outdoor activities in a local park, swimming, biking or hiking on your favorite trails – be creative and mix it up so you and your body don't get bored.GC: We all have crazy busy lives and setting aside 1 hour a day will help to relieve stress, give us tons of energy, alleviate signs of depression and on and on. Realizing that we are a priority and without our good health, we can't be a real benefit to others. Setting an example for our children is one of the many reasons to get to the gym. Children tend to emulate their parents behaviors and that is the best reason I can think of to hit the gym.
In your opinion, how much of the "fitness equation" involves the foods somebody eats?GC: It is amazing all the folks I see at the gym that are working their butts off, sweating like crazy and giving it their all and still little change after months in the gym. I don't ask of course, but I'm certain their eating habits have changed very little. The types of food & drink we put in our bodies have everything to do with how we look and feel. If I had to choose between clean eating and exercise as a way to stay lean & healthy…clean eating would win out every single time. The truth is, they compliment each other and together they can move mountains.
Do you have any pointers for sticking with your workout program long-term and finding inspiration to keep going?KS: It's always a great idea to have dreams and long-term goals.  One thing that will help from being overwhelmed is to also set short-term goals and build on the successful momentum you achieve.  Build on your strengths along the way and cherish every moment of your amazing journey! When you think you may slip, reach out to someone you can lean on. A support network and useful tools that are beneficial to you can make all the difference.JG:"Fitness" doesn't always have to look like going to the gym, or taking a class. Fitness can be found doing activities you love. For example, I have a few good friends that joined a community soccer league. They practice once a week and have a game another day during the week. They "exercise" a third time and bam! Done. Another example – I love to hike. My family and I get out a few times a month and I count that as one of my workouts for the week. Find something you love to do, and count that as a workout.Also, having a goal is a great motivator to stick with fitness. For example, last year, a friend of mine asked me to participate in a charity 5K event. I'm no runner, that's for sure. But, this event was important to her and her family. So, I trained for it – my goal was to run it the whole way through and finish in a certain time. That kept me sticking to my workouts. When choosing a goal, choose something that's really important to you – that'll get you extra motivated.JT: It is very common to see my gym packed in January and then February-March it dies out.  My advice is to do something you love and look forward to.  Exercise can be so much fun.  See if your local gym or community center has group exercise programs.  If you are new, it takes about 4 classes to get the hang of it.  Don't get discouraged because we all started out from the beginning.  Step aerobics, zumba, belly dancing, and indoor cycling are just a few that can be so much fun once you get the hang of it.  Setting small, measurable, and achievable goals will set you up for success.  It is unrealistic to lose 15 pounds in one month.  Instead, set small goals like being able to run for twenty consecutive minutes or losing an inch of belly fat in two months.GC: 1) Have ONE cheat meal a week…clean or not so clean. I still have smaller portions, but this is our "going out to eat" meal and I choose from anything on the menu and don't feel the least bit guilty.  This carries me through the rest of the week without any cravings for unclean foods.  If I want a glass of red wine or a crème brûlée, this is the day to indulge!2) After 3 years of keeping fat off by eating clean and working out, I still set fitness goals.  For example, my glutes are my biggest challenge. Lifting, tightening and rounding this 53-year-old butt is not an easy thing to do, but I am determined to do just that. I take pictures–from Oxygen magazine or Fitness Rx–of glutes that fit the bill and look at them weekly as a reminder of how my glutes will look in the near future.
Article is an original work and is © Tiffany McCauley. It may not be reproduced for any reason without written permission by the author.