Today I have a Wilderness Chef Cookbook Giveaway for you!
If outdoor cooking and camping is your thing, have I got a fabulous cookbook for you!! And today, one lucky winner will have the opportunity to win a free copy!
Please note that I was sent a free copy of this book for review. I was not compensated in any other way to write this review. All opinions are my own.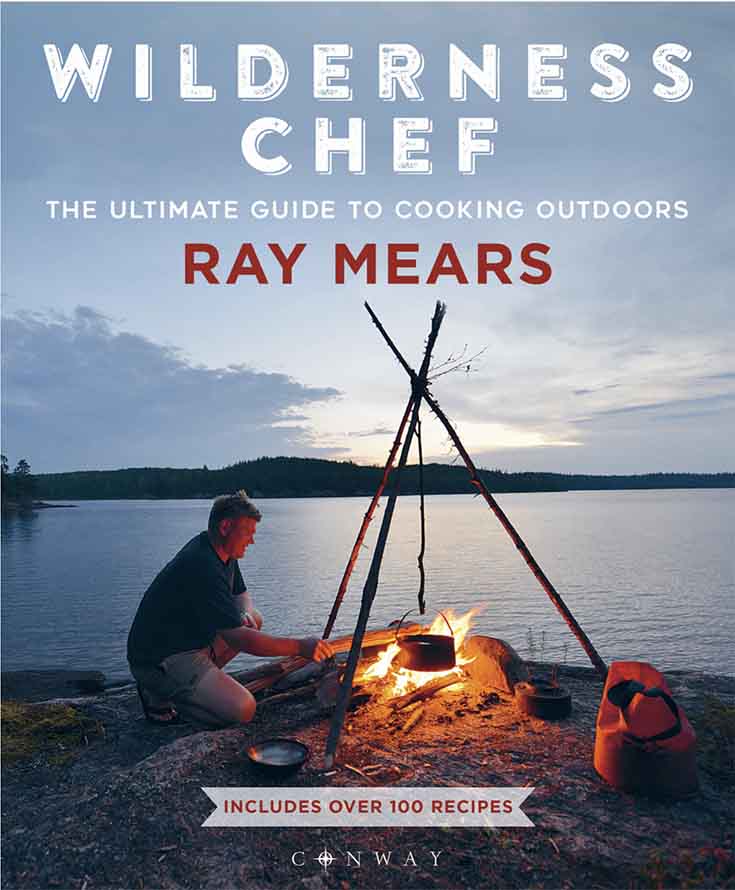 I was truly impressed with this book. If I'm ever stranded in the wilderness, I hope to have this book with me. It's truly all encompassing and leaves nothing in question.
Wilderness Chef: The Ultimate Guide to Cooking Outdoors by the master of bushcraft Ray Mears, a gorgeous and inspiring outdoor cookbook that goes back to basics and beyond. This adventurous cookbook goes beyond foraging and shows readers how to cook every step of the way: from lighting and building the right cooking fire, to cooking the food on a stick, over the fire, and then how to make your food taste amazing by using age-old techniques. Wilderness Chef is a practical and inspiring cookbook that draws on the love of the outdoors, cooking in the open air and creating delicious food from scratch.
Wilderness Chef is more timely and poignant than ever. It's no secret that we live in strange and unprecedented times. As the world starts to slowly reopen and people are once again travelling and taking vacations, there are still many restrictions in place. Meeting with friends and family is only going to be possible outside for the foreseeable future, and recreational activities and holidays are now being spent outside. Whether at BBQs, gardening, hiking and camping, people are tuning back in to nature and enjoying the great outdoors like never before.

As the master of bushcraft and survival, Mears teaches readers new skills for mastering outdoor cooking, including:

How to build an in-ground oven in the wilderness
How to create the most satisfying meal ever—you've found it, cooked it, and made it taste amazing
How to make outdoor cooking a hugely rewarding experience
Easy ideas that children and grownups can try, such as campfire fondue and baked apples
How to make delicious, gourmet meals like venison pave brochette
Recipes learned from bushmen and native peoples around the world, like sami bread, jungle curry and ostrich egg

Ray Mears needs little introduction. Recognized throughout the world as an authority on what he calls "Wilderness Bushcraft," Mears has spent his life learning survival skills from indigenous people around the world. Infused throughout with Mears' unique experience and enthusiasm, Wilderness Chef has been a work in the making for over 15 years and is a collection of his most treasured recipes. It begins with setting up your outdoor kitchen, assessing your ingredients, then focusing on key techniques: lighting your fire, cooking in ashes and leaves, steaming on an open fire, and smoking. These practical instructions are beautifully described using anecdotes from thousands of meals cooked outdoors, illustrated with Mears' own breath-taking photography.
If you'd like to enter for a chance to win a copy of this wonderful cookbook, enter below.
If you'd like to go ahead and purchase this book, you can find the Wilderness Chef on Amazon.
CONTEST RULES
A winner will be chosen on August 15th and announced here. Please supply a valid email in order to be contacted if you win. The winner's contact information will be forwarded to the PR company so that they can send you your book. The Gracious Pantry does not have anything to do with the shipping of the winner's cookbook and has no control over if or how your information is kept or stored. Contact the PR company or this information. Rules subject to change. Must be 18 to enter and live in the USA.