Dear Reader,
Today, myself and many other bloggers are taking a break from our usual content to take a stand and fight for your right to access our sites.
WHY THE GRACIOUS PANTRY IS IN DANGER OF CLOSING:
I've been blogging here for 8 years and sadly, I could watch it all die a relatively quick and painful death. This business that supports my tiny family of two is in jeopardy and so is your access to the information you want to find when you log on to any site on the internet.
After December 14th, you may start losing access to the sites you love best, including this one. Not because my blog will go away, but because your internet provider could restrict access or charge you to read my blog and many other websites out there.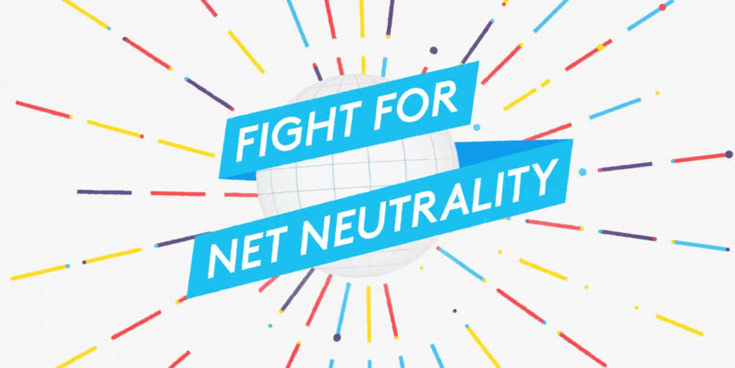 Do you mind paying a fee to use Facebook or watch a video on Youtube? Oh… you do? Well…
Things won't start out that way immediately, but this scenario is a VERY real possibility. Of the five people who will vote on this at the FCC, 3 are in favor of getting rid of net neutrality.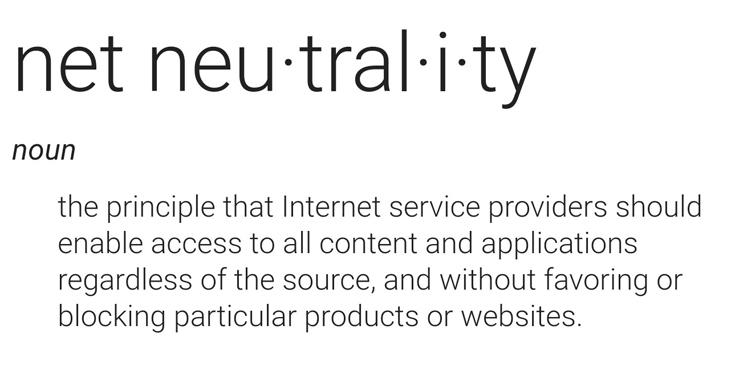 WHAT IS NET NEUTRALITY?
Net Neutrality is the basic principle that prohibits internet service providers like AT&T, Comcast and Verizon from speeding up, slowing down or blocking any content, applications or websites you want to use. Net Neutrality is the way that the internet has always worked.

In 2015, millions of activists pressured the Federal Communications Commission to adopt historic Net Neutrality rules that keep the internet free and open — allowing you to share and access information of your choosing without interference.

But right now this win is in jeopardy: FCC chairman, Ajit Pai, wants to destroy Net Neutrality. In May, the FCC voted to let Pai's internet-killing plan move forward. By the end of the summer, the agency was flooded with more than 20 million comments. The vast majority of people commenting urged the FCC to preserve the existing Net Neutrality rules. (source)
Sadly, this wasn't enough. The vote takes place on December 14th and it's not looking like it will end up in my (or your) favor.
WHY SHOULD THIS MATTER TO YOU?
Other countries (such as Portugal) who have done away with net neutrality are great examples of what could happen without it in this country. Enjoy using Facebook? Sorry, you'll have to buy an extra package that allows you access to Facebook. That blog you really enjoy reading? It could take 5 minutes for the homepage to even download and be readable, never mind the rest of the content you want to see. Why? Because only large companies that can pay for site speed will be able to have their sites load in the same amount of time you would expect from any site right now. Don't you just hate it when you're on your phone and you click a link that takes forever to show you what you want to see? That little wheel just keeps spinning and spinning . Ya… that would be that all the time for smaller blogs like this one that can't afford to pay huge prices for site speed.
There are so many reasons to fight for net neutrality.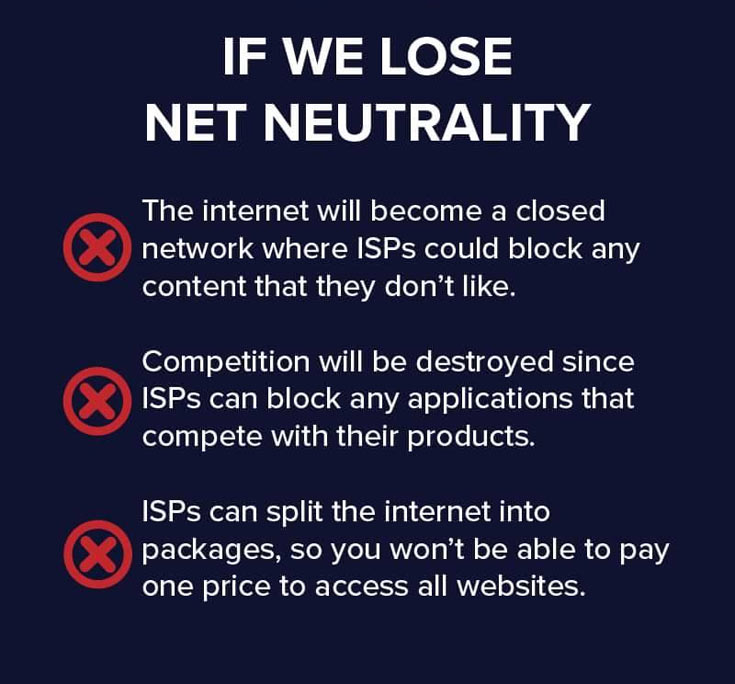 WHAT COULD CHANGE IF WE LOSE NET NEUTRALITY?
Online shopping
Looking for and finding information on anything.
Online banking
Social media (you may have to pay extra to use it!)
Watching videos
Reading your favorite blogs
Getting your daily news
Anything and everything you use the internet for
NEED MORE INFO?
SO WHAT CAN YOU DO ABOUT ALL OF THIS?
With the FCC committee vote happening as soon as next week, the most effective way to make a difference is to email the five FCC committee members who will be deciding on the fate of Net Neutrality. These are the five people deciding the future of the Internet that will impact anyone who uses it.

The two women on the committee have indicated they are No votes. We need only to convince ONE of the other members to flip to a No vote to save Net Neutrality. (However, we need to be sure to email all 5 members to cover all bases.)

We need to be blowing up all five of their inboxes demanding they VOTE NO on repealing Net Neutrality!!  Here are their names and email addresses. The basic message in people's email should be to ask them to VOTE NO on repealing Net Neutrality.

Ajit Pai – Ajit.Pai@fcc.gov

Mignon Clyburn – Mignon.Clyburn@fcc.gov

Michael O'Rielly – Mike.O'Rielly@fcc.gov

Brendan Carr – Brendan.Carr@fcc.gov

Jessica Rosenworcel – Jessica.Rosenworcel@fcc.gov
MAKE YOUR VOICE HEARD!
They tried to make it as complicated as possible to leave a comment on their site, but this should simplify it for you.

Here's a link that will take you right to the page to leave your comment:
https://www.fcc.gov/ecfs/filings/express
Under "proceedings" type: 17-108
Under "name of filer" type your name and hit enter.

Or, thanks to John Oliver, you can go to gofccyourself.com, but you still have to click on "express."

Do it! Share widely!
MAKE A PHONE CALL!
Call (202) 418-1000, and leave a voicemail to the FCC to say you oppose the repeal of net neutrality.
SIGN PETITIONS!
NEED PROOF?
When I first posted about this issue on Facebook, there was one person who said she wanted proof. She wanted to know about things that had happened in the past that proved that ISP's would do this to us. Well firstly, common sense should tell you that these large corporations are not concerned about what you see online. They are concerned with their bottom line. So thinking they would never do this without laws in place is being awfully trusting in corporate America. But aside from that, here are some things that have happened before Net Neutrality laws were set in place.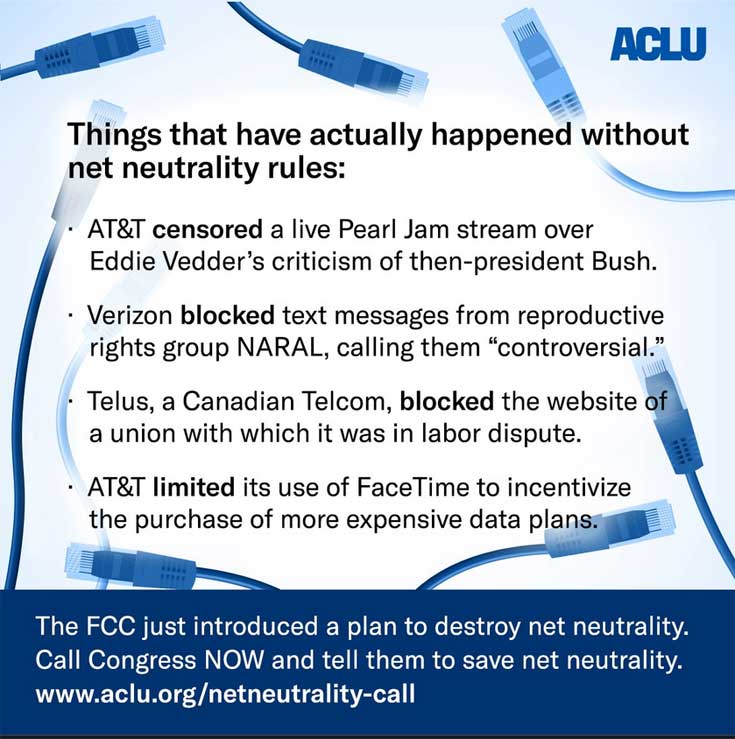 THINK I'M NUTS?
Verizon has already admitted that they will implement fast lanes for people who can pay the fees they will charge and give everyone else the "slow lanes".
IN CONCLUSION:
Look. At the end of the day, this post is a little selfish. I don't want to lose my only source of income. A business I've worked hard to build over the past 8 years. The result of that would be catastrophic for my little family of two. I don't have any family left that will help me if this all tanks. So Mini Chef and I would be in a really bad position, were this to happen. As would a lot of other bloggers out there who rely on their blogs for needed income. The last thing we need in this country is more people out of work.
But if I step back from my own worries and focus on the bigger issue at hand, what's at stake here is huge. You won't be able to log on and get whatever information you want from the internet any longer. Corporations will show you only what they want you to see.
Will it change immediately once the laws are gone? Probably not. But without laws in place, it probably won't take long for it to get to that. Are you willing to risk it? The net is free domain and should remain that way for millions of reasons. Don't let 5 people decide what you do and don't need to see or access on the internet.