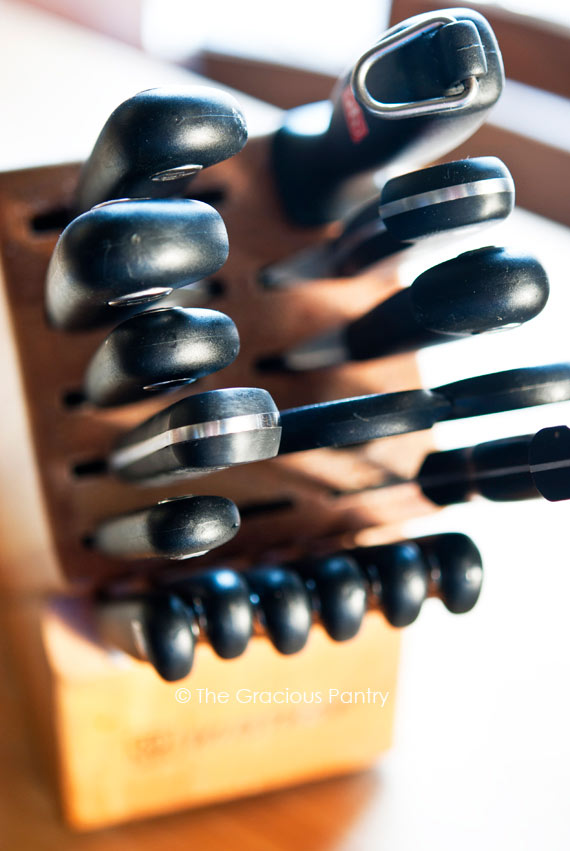 When it comes to knives, the average home cook can easily get overwhelmed trying to figure out what knife does what and how to choose the best knife for the job at hand.
There are a lot of different knives out there, so I'm going to start with the basics to keep thing simple.
Please note: To show you the types of knives I'm talking about, I've linked to photos on amazon.com. But these are also affiliate links. Should you decide to purchase anything through these amazon links, a small portion of the proceeds will come back to this blog to support it and keep it going.
KNOW YOUR OPTIONS
It's important to know that the type of knives you have in your kitchen will vary considerably based on your own personal needs and cooking style. Not everybody needs the same knives and it's perfectly acceptable to have only one or two good ones that you use for nearly everything.
WHAT KNIVES DO WHAT
Let's start with the different types of knives available. There are so many of them, it can be difficult to figure out which one is THE one, never mind picking out an entire set. So here are some of your options and what they do.
HOW DO YOU KNOW WHICH KNIFE IS BEST FOR YOU PERSONALLY?
If you are not familiar with different brands of knives, the best thing you can do is head down to a cutlery store and handle some of the different knives. Each brand and type will have a different weight and feel when you hold it. Some will give you more control and some will give you less. It all comes down to what fits best in your hand and what weight you can comfortably work with.
CARING FOR YOUR KNIVES
Once you have your knife or knives, proper care is critical. It makes no sense to spend all that money on a good knife and not take proper care of it. With the right care, a good knife can last a very long time.