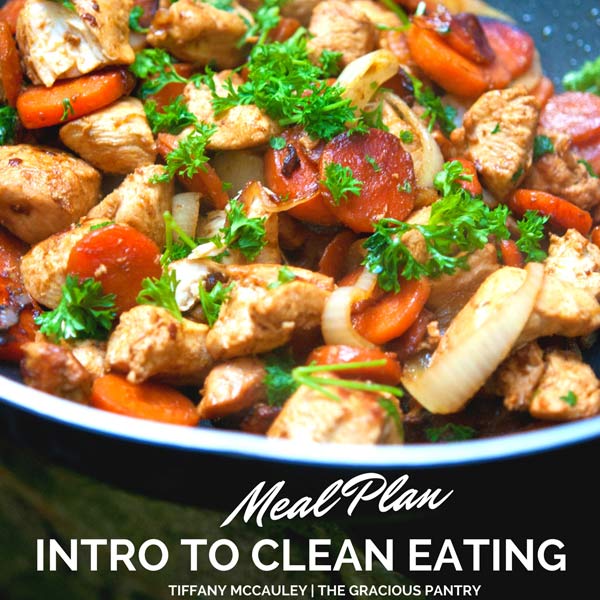 $6.00
This is the first of many meal plans to come. It's a basic clean eating meal plan to help you get started with clean eating. The plan is very versatile and can be adjusted for almonst any need you have. Adjust portion sizes easily, substitute ingredients as needed, keep snacks simple and if anything feels overwhelming, just switch out a meal for something more basic. Simple!
Note that it's helpful to have a slow cooker for this plan, but not critical.
CALENDAR VERSION – Free
In this version, I give you a 1 week, calendar-style layout (pictured below) with clickable recipe links. I also gave you some leftovers as followup meals, some very basic snacks and recipes that are more on the simple side. Keep in mind that if any of this feels overwhelming or like it's anything but "basic", it's okay. Simplify even further. Have leftovers from a particular recipe? Use those instead of cooking the next meal on the list! Do what you have to do to make this plan work for you. These plans are outlines, they are not written in stone. Make it work for you and your life.
This free download is clickable and will take you to recipes on my web site. You can download it here. Please be sure your device can read pdf files before downloading.
EXTENDED VERSION – $6.00
I created a complete meal plan with everything you need to follow the 1 week plan. Everything from shopping lists to the recipes themselves are contained in one, handy pdf. file. Please note that in addition to the extended version, you should also download the free version for the complete package. That way, you have ease of use regardless of how you are accessing the plan, both online and on paper if you print this. And again, if any of this feels too much, feel free to simplify further. It's just a starting point. You can do this!
Here's what you get when you purchase the extended version:
A few dessert suggestions
Prep list for your weekend
Shopping list
All recipes are included so you don't have to click through. Just print and go!
This plan will be delivered to you via email and is a pdf file. So please be sure your device can read pdf files before downloading. Also, this download link does expire. So be sure to download and save as soon as you get it.
(Purchase not refundable.)