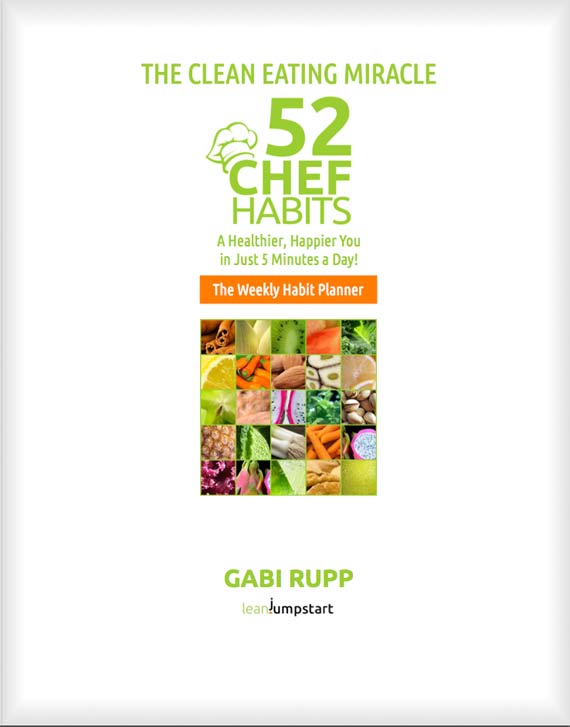 Do you have a habit of starting a program and then not sticking to it?
Is it difficult for you to stay organized and motivated regarding food and exercise?
The easiest way to change your life and your health is with a process. The Miracle of Clean Eating will transform your life in just 5 minutes a day! The Weekly "52 Chef Habits" Planner is the working book that contains absolutely everything to make clean eating habits stick.
You can expect:
1. 52 new changes in the field of clean eating, fitness or happiness
The majority of weekly changes are typical "Chef Habits" highly related to your kitchen.
2. Suggestions for reliable triggers that sends a signal to your brain,
letting it know that it is time to perform the specific action.
3. Each habit change will start small and simple, so that you can't say no.
4. Easy, baby-step changes that lead to big changes (the behavior itself).
Most healthy habits won't take you longer than 5 minutes.
5. An inspiration for a possible immediate and/or middle-term reward 
after exercising the habit resulting in good feelings (like self-confidence, accomplishment, etc.). That way your brain learns to remember this pattern for the future.
6. Advice on creating a system of social accountability through family, friends, social communities, tools and checklists for positive reinforcement.
7. Advice on creating a solid backup system
 you prepare in advance for unplanned situations.
8. Effective tools to put the behavior chain strategy for habit creation into practice.
Learn how to create sustainable clean eating habits to boost your energy levels and maintain a healthy body. You could even shed your last couple of pounds and keep it off, if this is your goal.
Win this incredible journal from LeanJumpstart by entering below!
Buy it now!
Clean Eating Miracle – 52 Chef Habits: A Healthier, Happier You in Just 5 Minutes a Day! (affiliate link)
PRIZE: This is a print book which will be sent from Germany. Shipping may take a bit longer than usual because of this. Please be patient.