What are the 5 things you need to start eating clean?
So you're new to clean eating.
You're excited, you're eager, and you don't have a clue where to start.
That's okay! We all start somewhere.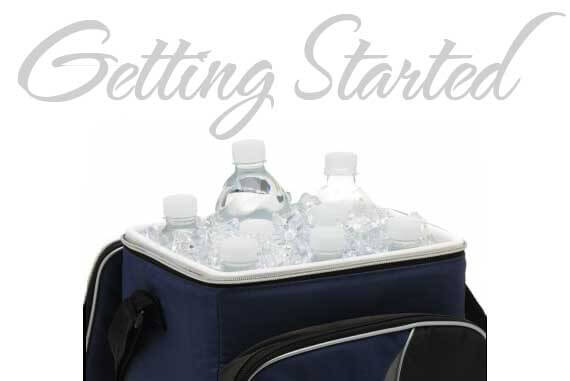 After eating mostly clean for the last year and a half, I've learned that there are a few tools that make clean eating soooo much easier. And they won't cost a bundle either!
YOU MIGHT ALSO ENJOY:
THE 5 THINGS YOU NEED TO START EATING CLEAN:
Here's what they are:

An oil sprayer. While they tend to have a short lifespan, they are indispensable for cooking clean! (The one I use is pictured here.) If you don't want to order on line, most kitchen supply stores will carry these and they run around $10 or so.
A cooler or large lunch bag. I usually buy mine in summer at my local drug store. Those bags that are always with the summer displays and usually have a few zippers, pockets and a large storage area for food. They come in different shapes and sizes. The trick is to find one that isn't too large for you to carry (remember it will be heavier with food in it), or too small to carry all your food for the day. Those small coolers that fit a six-pack of soda (which you won't be drinking) work well too. I believe most local sporting good stores will carry either of these year round.
A notebook. Pick up one of those cheap, spiral-bound notebooks. The thicker the better. This will become your new best friend. In it, you can list progress notes, recipes, meal plans and shopping lists. Anything related to your new clean eating lifestyle!
Resources. There are a ton of books written by Tosca Reno that are wonderful to get you started. There is also a huge and growing number of clean eating web sites out there (this one, for example!). Simply google the term "clean eating" or "clean eating recipes", and you'll have a world of resources at your finger tips. Here are a few that I have found helpful.
A simple understanding. The road to success is never straight. You have to go into this understanding that you WILL get off track. You WILL eat foods that are not clean, and you WILL have days where you just don't want to see another carrot or leaf of spinach to save your life. Why? Because that's life. We can't be 100% perfect 100% of the time. It doesn't work and it sets up unrealistic expectations. Just keep in mind that it's what you do the majority of the time that will really add up.I've lost 50 pounds to date, and I can honestly tell you that I have fallen off the clean eating wagon more than just a handful of times. What made the difference is that I always came back. I always picked myself up, dusted myself off, and started eating clean again(and I always will!). I didn't mess up once and throw in the towel. Remember also that if this new healthy lifestyle seems a bit less "flavorful" at first than you had hoped, that's okay. The simple fact is, if you're just getting started, it will take some time for your taste buds to adjust to the flavors of clean food. One of the big reasons I try to convert "main stream" and "popular" foods is because I believe it makes the transition to eating clean so much easier. A Clean Eating Pop Tart may not taste the same as a regular Pop Tart, but when you're just getting started, it sure beats a bowl of wheat germ and flax seeds, doesn't it? You'll eventually work your way up to that bowl of wheat germ. But for now, start with the things you are familiar with. It will make the transition so much easier for everyone involved.
Article is an original work and is © Tiffany McCauley. It may not be reproduced for any reason without written permission by the author.