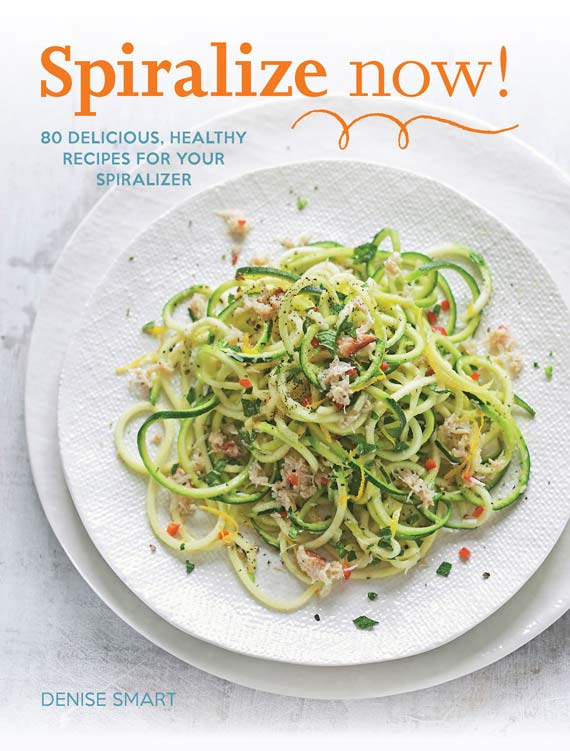 Ready, set, SPIRALIZE! Break bad habits, eat healthy yet delicious meals and enjoy quick cook times with Spiralize Now!
A spiralizer is the ideal gadget for health conscious cooks, low-carb dieters or anyone trying to pack in more fruits and veggies. Spiralize Now! is a compact yet comprehensive guide to all things spiralizing while also offering an abundance of simple meal solutions. From different types of blades and machines to top tips for various ingredients to recipes for light bites through dessert, this is more than just an average cookbook—it's a must-have cookbook!
Simple enough for any weeknight and delicious enough for a dinner party, the recipes in this book are easy-to-follow and accessible to home cooks everywhere. From breakfast to dessert there is something for every meal, every craving and every picky eater at the table. The 80 recipes in this gorgeous cookbook are organized by light bites, salads, mains, sides, and sweet treats, and are accompanied by beautiful, full-color photography.
Tasty recipes include: mini sweet potato and ricotta fritters, Mexican baked potato nests, butternut squash, sage and goat cheese tart, green papaya and chicken salad, pear, ham and blue cheese salad, shrimp pad Thai, baked chicken with sweet potatoes, Spanish chorizo tortilla, smoked haddock cakes, zucchini spaghetti with crab, chile and lemon, Moroccan turkey burgers, spiralized root vegetable rosti, spicy Asian coleslaw, crispy potato fries with rosemary and garlic, roasted beets with balsamic glaze, apple frangipane tart, carrot cake muffins, and much more!
Whether you're looking for a good pasta substitute, need a more creative way to eat fruits and veggies, love spiralizing or just want fresh dinner inspiration Spiralize Now! is an ideal resource for home cooks of any skill level!
ENTER BELOW FOR YOUR CHANCE TO WIN! OR….
If you absolutely can't wait for the giveaway to end, pick one up on Amazon today! (Amazon affiliate link)
NEED A SPIRALIZER?
If you need a good spiralizer, I recommend this one. (Amazon Affiliate Link)
Good luck!
Prizes: 1 cookbook
Number of Prizes: 3
Contest open to: USA and Canadian residents only
Contest ends: 4/28/16 – 10pm PST