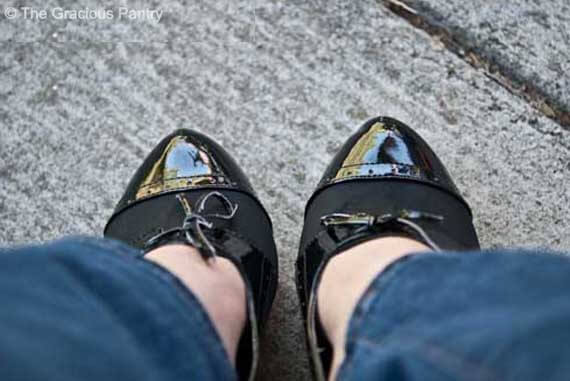 You know, losing weight is a completely mental process. The body simply follows the mind. So if the mind stays focused, the body gets healthy. It really is that basic (notice I said "basic", not "easy" or "simple".)
The other day, I was walking the mall with Mini Chef. We do this often because it's a great place to stay cool or warm depending on the weather outside, and it gets some of his energy worked out (which he has in spades).
Inevitably, we end up in one store or another, and the other day, I found myself in Hot Topic. I love this store's funky style. Even though much of the clothing is a bit young for me (did I just type that out loud???!!!), I do occasionally find something absolutely adorable.
On this last trip, I found a pair of shoes. I found THE pair of shoes. I found a pair of shoes that make me feel completely confident when I wear them. Shoes that make me feel like I can take on the rest of my weight loss without a problem because I'm actually looking forward to my body matching the hotness of these shoes!
I love shoes like that!
Isn't it amazing how a simple pair of shoes can change a woman's whole outlook on life? I mean really. I need to wear these 24/7. Too bad they would be so tough to work out in cause I would totally wear these on the stair climber at the gym. I'd have rock hard calves in no time!
But seriously, if a pair of shoes… something so simple… can change your entire outlook for the day, why don't we do these things more often? Why don't we do those little things that get us excited about the very things we are struggling so hard to do?
I think we just get busy and our health becomes something we HAVE to tend to instead of something that we look forward to nurturing. We forget that simple thing like a pair of shoes can not only change our entire attitude, but can keep us going when we need it most.
For me, it's shoes. For others, it will be something else. But I think it's vital to find that one thing that gets you exciting about your goals. Because really, getting healthy is about finding freedom.
The freedom from clothing that doesn't fit right. The freedom from being so weighed down with excess poundage that you can't even run and play with your kids or grandkids. The freedom from being dependent on certain medications. The freedom to know that you CAN pick up that heavy thing all by yourself and you won't get hurt doing it. Free, free, free!
I don't know about you, but if a simple pair of shoes reminds me of that freedom and keeps me working towards it, I'll wear them all day, every day. Wouldn't you?