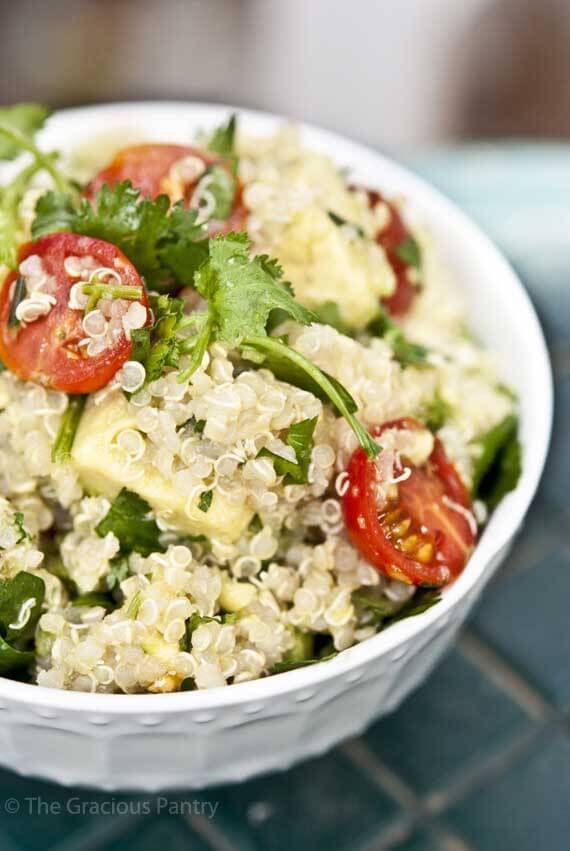 Quinoa salad is simple and amazing stuff. It's actually a seed that is a completely protein like meat (or so I've read). So it's a wonderful option for vegans and vegetarians.
Remember to ALWAYS rinse your quinoa. I even rinse the pre-rinsed stuff. Otherwise, you end up with a not-very-nice flavor and I've also read it's harder to digest if you don't.
I Never cook mine with water. Always with broth of some kind to get a nice, flavorful dish. You can use vegetable broth or chicken broth. Those would be the best choices in my book. But then it all depends on what you're mixing into it too.
In the photo above, I simply mixed in some cooked veggies I had in the fridge. And if I really needed to somehow add more flavor, I would add a tablespoon or two of clean salad dressing. You can add raw or cooked veggies, meats or seafood. You really can't go wrong with quinoa.
If you're interested in the particulars of the recipe above, you'll find the recipe here.
And if you'd like to check out more Simple Meals, here is the link.
Today is my third Simple Meals post and I hope you are enjoying them. If you find them helpful, please let me know. And if you have any suggestions for simple meals you enjoy at home, please feel free to share in a comment below. I might even share your suggestion in a future blog post! I figure the more ideas we can share, the better off we all are. Right? Right!