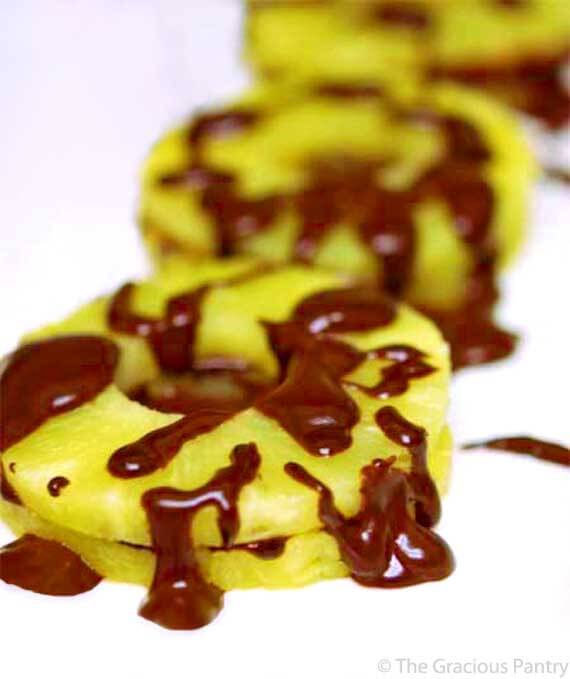 This recipe is not earth shattering in its creativity. But the flavor is another matter all together! I think this is one of my new favorite desserts.

I received The Flavor Bible
for Christmas this year, and was looking through it to see what I could create for my Valentine's Day dessert. Pineapple had popped up on the food aphrodisiac list I was using, so it was a good starting point. After looking through The Flavor Bible, a couple of flavor choices really resonated with me. Chocolate and coconut.
Now, I'm not a coconut fan AT ALL! I run from coconut. Can't stand the stuff. But coconut milk is a completely different story. Don't ask me why. I really don't know. I love coconut milk but can't stand coconut. Just another quirk in my brilliance (or so I tell myself).
Now, since this is for Valentine's Day, I had to choose other aphrodisiac foods to go into this dessert. Chocolate is an obvious aphrodisiac. It always has been. It's for this reason that so many women receive boxes of it on V-day. It may seem traditional, but that's the reason behind it (as far as I know).
But the coconut milk, was sort of a "round about" choice. The actual aphrodisiac is coconut water. But since I didn't have any of that (and it probably wouldn't have worked in this recipe anyway), I went with the next best thing. Coconut milk.
For the sweetener, I used honey. You can use just about any natural sweetener though. Just don't overdo it, as the pineapple will add its own element of sweetness and you don't want to achieve that "sickeningly sweet" taste.
YOU MIGHT ALSO ENJOY:
Clean Eating Pineapple With Chocolate Sauce
(Makes approximately 1 1/2 cups of chocolate sauce)
Ingredients:

1/2 medium fresh, ripe pineapple, peeled and sliced
4 ounces Baker's Unsweetened Chocolate (Can be found at most grocery stores in the baking aisle.)
7 ounces canned, light coconut milk
1/4 cup honey (start with 1/4 cup and add more to taste if necessary)
Directions:

Arrange your pineapple slices on the plate(s) you wish to serve them on.
Baker's chocolate usually comes in 1 ounce cubes inside an 8 ounce box. So open 4 of those cubes and place them in a bowl.
Heat your coconut milk and honey in a pot until it just barely starts to boil. Remove from heat immediately, and slowly, a little at a time, pour into chocolate while stirring the entire time. At first, it will seem like you've made a mistake. The chocolate will not blend well. But keep stirring. Eventually, you will get a nice smooth chocolate sauce. I found it worked best to change between a fork and a whisk for mixing. The fork worked best in the beginning, and as the chocolate melted more and more, I changed to a whisk.
Add extra honey if needed by gently whisk it in until you achieve a level of sweetness you enjoy. Remember, this will go over pineapples. So don't get it overly sweet.
Drizzle about 1 tbsp. of warm chocolate sauce over each slice. If the chocolate has cooled, warm it slightly in the microwave to make it "drizzly". Just don't overdo it or the chocolate will burn.
Storage: Store any extra sauce in a jar in the fridge for up to 2 weeks.
Nutritional Content:
(1 serving = 2 pineapple slices & 1 tbsp. chocolate sauce)
Calories: 175
Total Fat: 1 gm
Saturated Fats: 0 gm
Trans Fats: 0 gm
Cholesterol: 0 gm
Sodium: 6 mg
Carbohydrates: 44 gm
Dietary fiber: 0 gm
Sugars: 32 gm
Protein: 7 gm
Estimated Glycemic Load: 14
Please Note: Nutritional Information estimated at Nutritiondata.com. Data may not be accurate and is subject to the availability of specific foods in their database. Where one ingredient is not listed, substitutions must be used. Therefore, you should not refer to this data as being exact. It's more of a ballpark figure. The Gracious Pantry does not take responsibility for the inadequacies of the nutrition calculator used. This data is provided as a courtesy and general reference only. It is not exact.