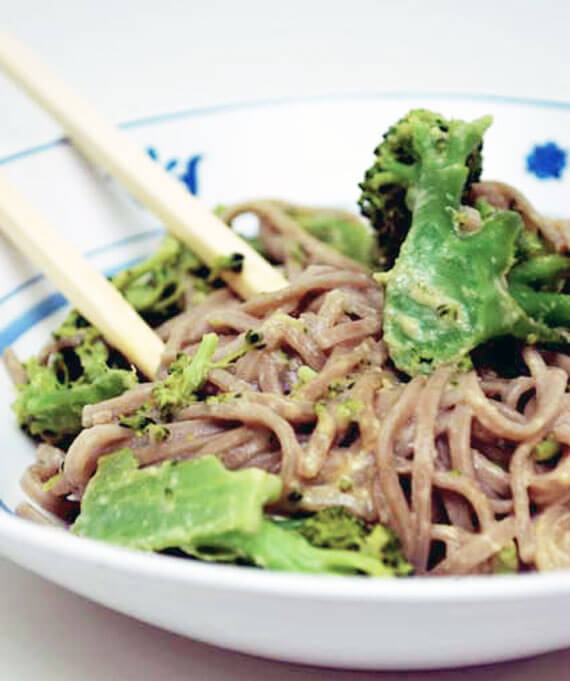 I've been working on this recipe for a while now. When I first tried it, I had WAAAAYYYY too much peanut butter in the recipe. It was like I had just dumped a jar of peanut butter over some noodles and served it for dinner. Not pleasant. But over time, I've refined it, and I've got it tasting pretty scrumptious now. Let me know what you think!
Note: You might need to search a bit for 100% buckwheat soba noodles. Many brands add refined, white flour.
YOU MIGHT ALSO ENJOY:

Peanut Broccoli And Chicken Soba Noodles
Ingredients:
1 package soba noodles (Use 2 bundles out of a 3 pack)
1 pound frozen broccoli
4 sesame chicken breasts (find the recipe here)
1 batch peanut sauce
Peanut Sauce Ingredients:
1 tablespoon creamy peanut butter (no sugar added)
1 tablespoon low sodium soy sauce
1 tablespoon honey
1/4 cup tahini
1/4 teaspoon garlic powder
1/4 teaspoon onion powder
Directions:
Prepare your sesame chicken (recipe here).
While the chicken bakes, cook soba noodles according to package directions. Cook your broccoli right along with your pasta in the same water, at the same time.
While the pasta cooks, in a medium mixing bowl, whisk all your sauce ingredients together and set aside.
Drain your pasta and broccoli and return to the pot. When chicken is finished baking, cut into bite sized chunks and toss into your pasta pot. Stir in the sauce, and serve.