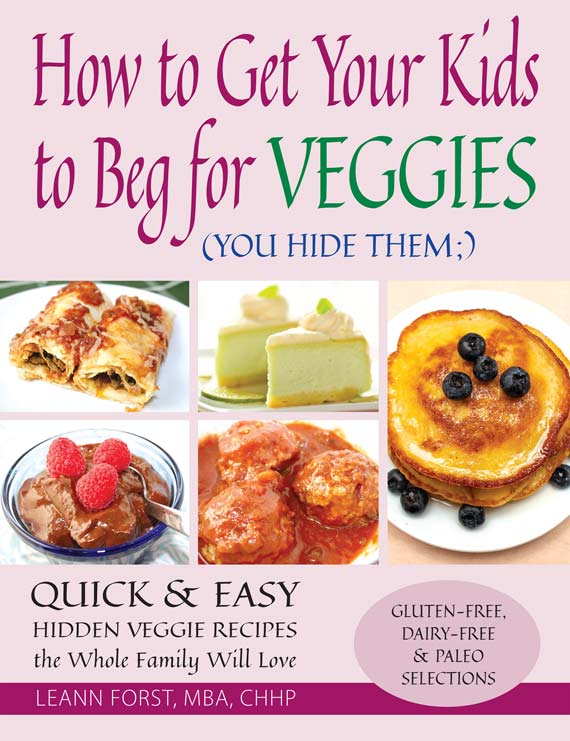 Author and nutrition expert, Leann Forst, has launched her new cookbook "How to Get Your Kids to Beg for Veggies: Quick & Easy Hidden Veggie Recipes the Whole Family Will Love" on Amazon.com.
Forst, a board certified holistic health practitioner, developed this book to help parents find healthy, sensible and easy-to-prepare meals and snacks that their families will actually enjoy.
In this new quick & easy cookbook, Leann takes the burden off of moms that want to feed their family good nutritious food, without the hassle of added preparation. By using veggies in the form of baby food and organic vegetable powders, Leann sneaks additional nutrients into family favorite recipes in ONE STEP – making picky eaters a thing of the past and bringing harmony to the dinner table.
This colorful and fun cookbook provides a variety of eye-opening "tricks" for disguising healthy ingredients in the foods children enjoy. By hiding vegetables, Forst teaches parents how to create recipes that are healthy and can please the whole family—even the pickiest eaters.
Some of the mouth-watering recipes in Forst's cookbook include: Creamy Pumpkin Oatmeal; the Best Beet Gingerbread Muffins; Easy Pumpkin Pasta Casserole; Savory Turkey Veggie Meatballs; Secret Ingredient Mac & Cheese Cups; Super Sloppy Joes; Sweet Potato Brownies; Banana Lime Cream Pie and much more!
To learn more about how to get kids to beg for veggies, visit the author's website at www.groovybeets.com.
ABOUT THE AUTHOR:
Leann Forst, MBA, CHHP, is a board certified holistic health practitioner. Forst received a Bachelor of Science degree from Upper Iowa University and a Master's degree from Drake University then went on to study at the Institute of Integrative Nutrition. In 2014, she authored "100 Ways To Lose Weight: Proven Methods From Worldwide Experts," also available at Amazon.com. In the fall of 2015, Leann will speak at Medical City Hospital Dallas to teach school nurses how to support families dealing with ADHD, asthma, allergies and autism. Forst is a principal in Groovy Beets Natural Family Health, providing wellness education programs to individuals and organizations.
ENTER TO WIN:
Read contest rules here.
Contest open to US residents only.
Must be 18 to enter.
Contest void where prohibited.