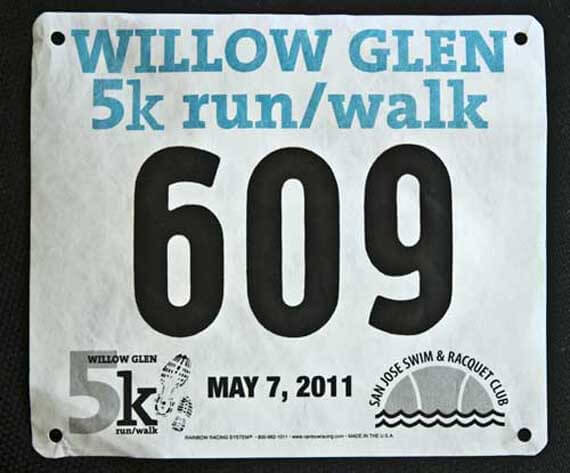 I stood there at the starting gate, my body completely unaware of what I was about to require of it. The starting gate itself was this big, red, blow up thingy that wasn't wide enough to get everybody through it. So when the race started, it took about 2-5 minutes just to get everybody through. But no big deal. This was going to be fun.
Mile 1
I hate this. I hate every step, every person passing me, and every drop of sweat I was sure I wouldn't feel until at least mile 2. I swear I'm going to be the last person to finish. My body does NOT want to do this, and who am I kidding? I'm not a runner anyway. Never have been, and obviously never will be.

And by the way, that young kid with the flag showing me which way to go is going to die if he tells me one more time to "keep it up".

Did that old lady with a walker really just pass me??!!
Mile 2
Wow. They sure picked some nice, multi-million dollar neighborhoods for us to run through. But my knee hurts, my hip hurts, and I'm just barely keeping up with granny. In fact, I may ask to borrow her walker. So honestly, who cares about the houses?

Wow! Look at that house! Some day, Tiffany, some day. Just keep running for now. Focus.

Whatever you do, Tiffany, do NOT look back. If you are the last one running, you'll throw in the towel and walk the rest of the way. Just don't look back. Keep running. Keep running. Keep running. At least it's a little easier to breathe now. That first mile was a bugger!
Mile 3
Did I just leave granny in the dust??!!! I think I did! I think I even passed a few people my own age! Go girl! Just don't look back.

Crap. I have to look back. I have to. But I shouldn't. I just know if I see how far back I really am, I'll never want to run again. Don't do it Tiffany. Don't look back. Okay. I'll look…

Holy hairballs!!! There's a HUGE group of people behind me!! I'm not so slow after all!! Go girl, go!!!
Mile .00685596
Who's wise idea was it to hide the finish line anyway?? Those 13-year-old flag wavers keep saying I'm almost there, but dang it! Somebody hid the finish line!!! It must be here somewhere. It has to be. Oh look! The starting gate! I must be close. Can't believe they moved the finish line. Who's bright idea was that anyway?

OH MMMM GEEEEEE!!!!! It's the finish line!! And LOOK! A timer! I've only been running for…. could it be? Did I really go that fast? I've never made that kind of time running around the neighborhood at home. Their timer must be broken.

"Excuse me, do you know what time it is?" (Yes, I know there's a big fat clock there, but humor me.)

Wow. Their timer was right! I did 3 miles in 49:30. That's a record for me! Still slow as molasses, but faster than I've ever gone! Did I really just do that?
On The Drive Home
Man! These protein pancakes and banana are sooooo dang good! I don't remember them ever tasting this good. Must be the pan I used or something.

I'm sore, I'm stiff, but I want to do it again. Maybe I'm a runner after all?