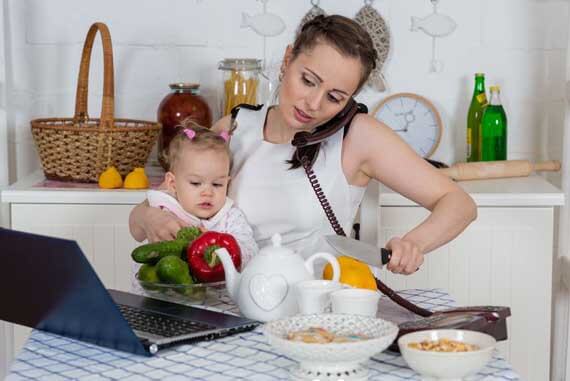 I hear it again and again. "I don't have time to do all that cooking!"
I think we've all been there. A day or evening when the very idea of setting foot in the kitchen just feels too much. It's the last straw and it's a very short one. So anything more than a microwaveable meal or even something cold out of the fridge is just more than you can do. I totally get that. Been there a hundred times myself.
But the good news is, there are ways around that. There are things you can do to prepare ahead of time, and even manage when you haven't prepared at all.
WHAT TO PREPARE AHEAD OF TIME:
Some things should always be staples in your fridge (or freezer!). They will help you when you're down to the bare bones and grocery shopping is still a few days away.
Salad Dressing: Always keep a clean salad dressing in your fridge. They keep for a while and you can use it not only for dressing a large salad for dinner, but also for marinating meats or adding flavor to a grain salad. It's the quick and easy way to flavor simple meals.
Brown Rice: Keeping this one ingredient in your cupboard will save you on many nights (note: quinoa works too.). Simply chop any veggies you have in the fridge while the rice (or quinoa) cooks. When done, toss in the raw veggies (or even warm some veggies out of your freezer to stir in.) with some spice/seasoning or even salad dressing to taste and you've got a simple meatless meal (Monday night dinner anyone?)
Freezer items: If you are like many clean eaters, food prep is an essential part of sticking to your meal plan. Every week when you do your food prep, make one extra casserole or other freezable dish of some kind to keep in your freezer for nights when you just can't do any cooking. A quick warm up and dinner will be on the table!
WHEN YOU'RE NOT PREPARED:
This is hard, no way around it. You have the best of intentions, you really want to eat clean, but you haven't prepped anything ahead of time and dinner is NOW. Here's a plan of attack:
Take stock of what clean ingredients you DO have in the fridge and pantry. Can you make a simple meal from those ingredients? (Hint: Search my site by ingredient to see if you can put something together with what you have. Be flexible with ingredients as you may not get an exact match.)
Are any of the ingredients a meal on their own? Ex: a pound of lean, ground turkey meat or a bag of lettuce. Keep it simple to save yourself the headache of a more complicated meal. Have that turkey and a bell pepper? Then you've got turkey patties and chopped, raw bell peppers for dinner!
Nothing there you can work with? Don't panic! If your only option is to run to the store or call for delivery, there are some things you can do here to keep things as clean as possible. Read on…
WHEN THE STORE OR DELIVERY ARE YOUR ONLY OPTIONS:
Now please understand, I'm not advocating for ordering delivery. I'm simply trying to help people get through a tough night that may happen on occasion. This is not the way to eat clean on a consistent basis.
If you can run to the store, do it. Grab something simple like that pound of ground turkey and make turkey patties or burgers. Or that bag of lettuce can quickly mix with that bell pepper and cucumber you have in the produce drawer in your fridge (or the produce section of the store!).
If delivery is your only option, realize that you will just have to make the best of a bad situation. It's not the end of the world. It's one night and if it saves you a migraine, I say go for it. Just get right back on track tomorrow (and make a trip to the grocery store before tomorrow night!).
DELIVERY OPTIONS:
Always order a salad with your delivery meal (remember that jar of clean dressing in your fridge??). Eat that first so you fill up on greens instead of junk. It does help avoid overeating on the not-so-clean stuff. And if you don't have that jar of salad dressing <gasp!> try plain balsamic vinegar and a little extra virgin olive oil. You can even mix in some herbs for an Italian flavoring if you like.
Chinese Food: If you have Chinese food delivery as a possibility, call and ask for a plain veggie stir-fry with no added sauce, spices or MSG (Yes, you often have to specify that they do not add MSG). If you must have rice and you don't have any brown rice at home to cook, opt for the plain white rice. Nothing else added. Want meat too? Ask for plain chicken. You get the idea. You may have to add a little flavoring at home, but at least you know you've ordered the best option available to you. And it's not too bad for home delivery!!
Mexican Food: Hands down, Fajitas are always the best option with Mexican food. Get the corn tortillas and omit the sour cream. Ask for guacamole and enjoy the chicken and veggies! (Omit the tortillas all together if you are trying to avoid GMOs)
Pizza: This should always be your LAST resort. There really isn't any way to order a clean pizza. Sad but true. Maybe in my next life I'll start a clean pizza delivery service. But until then, the best you can do is avoid any meats like pepperoni and ask them to load up on the veggies. That's about all you can do with this one.
 TIPS TO AVOID THIS HAPPENING IN THE FUTURE:
Prep food for nights like this. They will always happen. If you think they won't, you're kidding yourself. Just prep 1 meal each week, just in case. And even if you end up with a few different meals in your freezer, that's never a bad thing!
Remember your slow cooker. If you know your day will be hectic, let your slow cooker do all the cooking for you while you're gone. That's what they are made to do and you get to come home to a warm meal.
Stock your pantry. Having items on hand like beans and grains will save you. Most people can cook a pot of rice, and even a pot of split pea soup cooks up pretty quickly as a one-pot meal. But having these foods in your pantry is a lifesaver. And the best part is they last a very long time. So stock up, especially when they are on sale!
SIMPLE MEALS
I have started a new section on my blog called "Simple Meals". They are not recipes, but rather just simple meal ideas using very few ingredients. I will be posting a new one at the end of every week. So stay tuned for more! Find them all here.