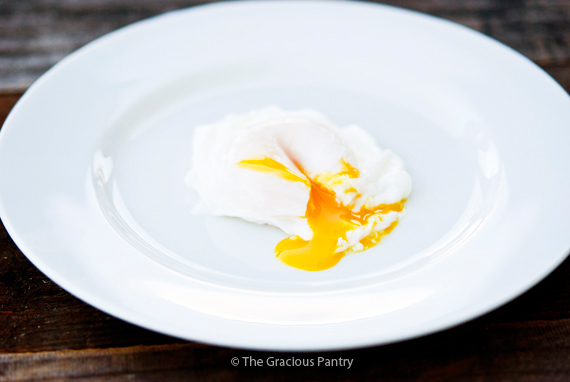 Poaching eggs is not an easy skill to master. But there are some tips and techniques you can use to help. The rest is just practice, practice, practice.
Here's what I learned in culinary school:
Bring your pot of water to a full boil before putting your eggs in.
Then reduce heat until you have no movement in the water at all. The temp should come down to somewhere between 160 F. and 180 F. This is known as the poaching temperature.
Have your egg already cracked and waiting in a heat-safe bowl.
Stir the water so that it is moving in a circular motion when you put the egg in.
Lower the bowl into the water a bit and let the egg gently and slowly slide into the water. Never dump the egg in from above water level. The bowl holding your egg needs to actually be in the water before you empty the egg out (see video below).
Gently stir the water again to keep the water moving. This keeps the egg from sticking to the bottom of the pot.
Some people will put a couple teaspoons of vinegar in the water to help keep the egg whites together. This is a common practice in restaurants. But not everyone does it and it does give the egg a slight vinegary flavor. The choice is yours.
Cook the egg in this temperature range for about 3-4 minutes.
You know the egg is done when you lift the egg out of the water with a slotted spoon and the white is cooked but the yellow still jiggles when you gently shake the spoon in a horizontal direction.
Allow the egg to drain through the slotted spoon and serve.
You can make poached eggs ahead of time and keep them in ice water in the fridge to eat later as well. Simply rewarm for about a minute or so in warm water. The eggs will keep that way overnight. But they aren't very good after about 24 hours. So you can't cook a batch for the whole week.
Please note: I am no longer in culinary school. I had to drop out to care for my mom. But I will eventually go back when my schedule allows.