Wondering how to blanch almonds at home? It's easy!!
What are blanched almonds?
Blanched almonds are almonds that have had a short cooking period in hot water which loosens their skins so the skins can be easily removed. Basically, they are just almonds without their skin.
Learning
This year, I'm working on educating myself on a lot of food preservation techniques. For many vegetables and even some fruits, you need to blanch them before you can preserve them. But blanching was always one of those things that seemed like more trouble than it was worth. Bringing a big pot of water to boil only to toss it out a few minutes later when you're done blanching seemed wasteful somehow. But I'm over it. Blanching rocks. Especially with almonds. (And you can alway let the water cool and pour it over plants around the house or in the garden.) This goes so super fast and easy, I feel silly for ever having purchased blanched almonds. I mean, why pay more for something that is so fast and easy to do at home?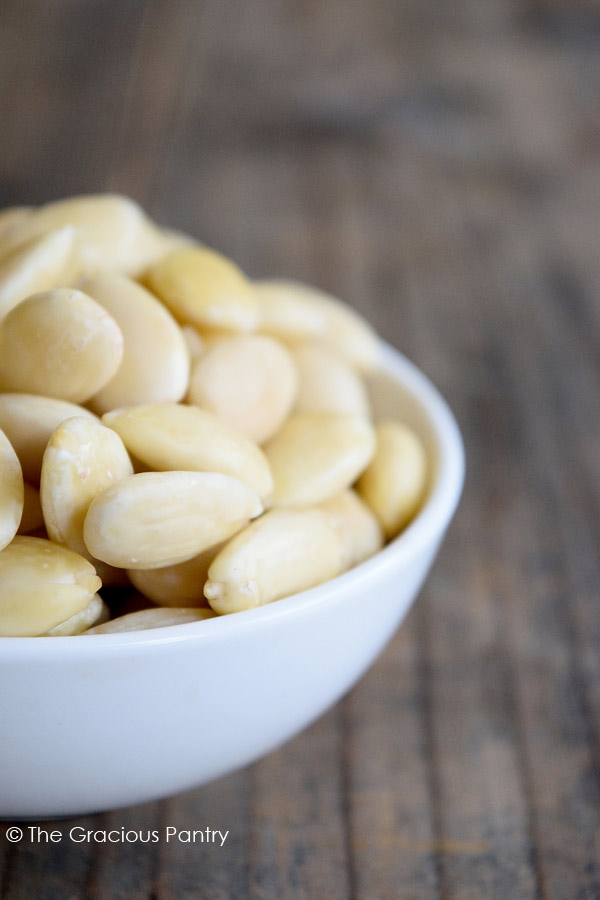 It's easy!
I recently tried my hand at making marzipan. It's definitely something I need to play around with a bit more, but the process of blanching almonds for the recipe I tried struck me as super easy despite always seeing my mom buy them during the holidays. So I thought I would share this simple method of  blanching almonds (removing their skins).
Uses
Blanched almonds are used for so many things. They are great for baking, or even making almond flour that is finer, lighter and softer than the kind with the skins in it. You can use them for garnishing dishes, stir fry's or even pilaf. They are delicious and easy to eat! My mom used to buy them all the time for her Christmas baking. If I had known how easy they were to blanch at home, I would have made a bunch of them for her instead of having her pay extra for getting less!
VIEW MORE "HOW TO" COOKING GUIDES HERE: Click here
I put this little video together because frankly, it's always easier to do something when you see it demonstrated. So here's a short (less than one minute) video on how to blanch almonds. I promise, it's easy!!
HOW TO BLANCH ALMONDS: