In this post, I'm going to attempt to cover the basics in kitchen tools.
Please understand that this is a highly subjective thing and what you personally need will vary based on your cooking style and preferences. But I thought it would be a good idea to at least post a list to work with. You can add or subtract from it as needed. And please, let me know what YOU consider a critical in a comment below!
Note: I have included links here so you can see what I'm talking about. But these are also affiliate links for amazon. Should you decide to purchase anything through these amazon links, a small portion of the proceeds will come back to this blog to support it and keep it growing.
LADLES
Did you know that ladles are essentially measuring cups for liquids? They come in different sizes for exactly that purpose. The ladles in restaurants are not random. They are sized so that you get the same portion every time! So if you can't afford good quality measuring cups AND ladles, get the ladles! Just make sure they are stainless steel or they won't hold up all that well. (you'll notice the stainless steel thing is a big sticking point for me). See them here.
MEASURING CUPS
You will need measuring cups for both dry and wet ingredients.
MEASURING SPOONS
Again, stainless steel is the best here. I can't say enough about them. Plastic measuring spoons just don't hold up well, especially if you put them in a dishwasher. Over time, they tend to get pretty ragged and beat up. Not the case with stainless steel! I also love the spoons that are rectangular simply because the round ones often won't fit into some of my spice jars. But the rectangular ones fit into almost all of them. See them here.
BLENDER
A good blender is an invaluable tool. And while I could say that investing in a big, expensive blender is the way to go, I honestly can't go there. The truth is, the best blender I've ever had (and still use every day) is an affordable little Ninja blender with travel cups you can blend in and a bigger tumbler for bigger jobs. It's not huge, but it's a work horse and I really do use it daily.
I also have a Vitamix (See it here.) And while I like it for certain things, it's just too much blender to use on a daily basis for the average home cook. I think if you are needing a blender for commercial purposes, a Vitamix is definitely the way to go.
But for home use, this little Ninja rocks. See it here.
FOOD PROCESSOR
Here again, you could spend a small fortune, but why? A middle-of-the-road Cuisenart food processor is great for home use, and works fairly well at grating foods as well with the attachment that typically comes with it. See it here.
MIXER
For home use, a hand-held mixer is often sufficient for most home cooks. And I really like the KitchenAid hand mixer (See it here.). The brands seems to hold up pretty well. But if you are really into baking, then a KitchenAid mixer is the way to go. I won't supply an amazon link here simply because I firmly believe that eBay is the way to go on this. I recently purchased a factory-direct, professional-sized mixer for only $189 (with a warranty!) from eBay (the same mixer is listed on Amazon for $419.99). Of course, these deals don't pop up all the time, but it's worth it to keep an eye out. Even if you get a nice mixer for around $200, it's still worth it.
SPATULAS
TONGS
Tongs are one of those things that you may not use every day, but when you need them, you just NEED them. And the best type to get are the stainless steel tongs that lock. See it here.
WHISK
There are a bazillion different types of whisks out there. It really is mind boggling to see how many shapes and sizes there are. Some don't even resemble whisks any longer. But they are definitely an essential kitchen tool. See it here.
BOX GRATER
A cheese grater has multiple uses in the kitchen. I use mine often for everything from cheese to vegetables. The old graters that your grandmother had tended to rust over time. But these days, they hold up pretty well. Again, stainless steel…. not plastic. A nice extra to have if you use a lot of cheese is a grater that grates directly into a storage container. But you'll want a basic grater first. See it here.
MICROPLANE
This is another one of those tools that you won't use often, but when you need it for zesting, it's indispensable. Used for grating citrus zest, it's a must have if you like to bake or add extra "zing" to things like chicken or fish recipes. See it here.
POTATO MASHER
These are great and do a wonderful job of mashing just about everything from potatoes to cooked apples for apple sauce. But not all mashers are created equal. In fact, the one I have now I don't care for very much. I will be buying one like this in the very near future. See it here.
VEGETABLE PEELER
This tool is critical for most home cooks. But it's also one of those tools that can break easily or need frequent replacing. Oddly enough, the best one I've found so far was also the cheapest. See it here.
IMMERSION BLENDER
If it's between this and a regular blender, I'd go for an immersion blender every time. Grant it, a regular blender does things an immersion blender can't, but for me, the ease of use (and cleanup) far outweighs the other stuff. See it here.
OVEN THERMOMETER
I can't even begin to tell you how important this totally affordable little tool is for the average home cook. The temperature that displays on your oven, is not necessarily the temperature the oven has actually reached. In some cases, it's right on. But I have found in most cases, it's not. My oven says it's reached 350 F. long before it actually has. I have to preheat much longer to actually get the oven up to 350 F. So having this thermometer in my oven at all times is a lifesaver. See it here.
MEAT THERMOMETER
Cooking meat properly is essential. Not only for the texture and flavor of the meat, but also for food safety. A good thermometer will ensure you achieve both. See it here.
COLANDERS
No matter what foods you need to drain, a colander is the tool you need. From cooked pasta to canned beans, colanders are an essential part of the kitchen. But there are many types and I have tried a good majority of  them. If you can only afford one, opt for a wire-mesh colander. If the mesh is small enough, it will even double as a flour sifter! See it here.
CUTTING BOARDS
This is my current obsession. I just cannot seem to have enough cutting boards. I love them! I have also owned both plastic and wood cutting boards. While there is much debate over whether plastic or wood is better for food safety, nothing compares to a wood cutting board in my opinion. But plastic boards have their place as well.
Here are some good choices for both plastic and wood:
KNIVES
For the purpose of promoting better quality items, I am listing Wusthof knives in my links. However, prices range greatly on knives depending on the quality and brand you get. So if these don't fit your budget, simply look around for some cheaper varieties. There are a ton of them out there.
MIXING BOWLS
I highly recommend getting stainless steel or glass bowls in at least three different sizes. If you cook regularly, you can never have enough mixing bowls. But if you are just starting out, a set of three is the way to go to get you going. See them here.
POTS
People have varying opinions on what makes the best pot. I have stainless steel pots and I couldn't be happier. They heat evenly and take a beating. That said, some are definitely of better quality than others. For those just starting out, consider purchasing the following types of pots:
PANS
Quality aside, a good pan is in the eye of the beholder, or should I say, "the hand of the holder". The type of pan you want or need will depend on how you cook. For some it's cast iron or stainless steel, and for others it's a non-stick pan.
BAKING PANS
I think one of the most standard and called for sizes in a baking pan is 9×13. Of course, you can always go smaller or larger as needed, but I find that size in many recipes. And if you get a ceramic one, it doubles as a lasagna pan. But when baking, I highly recommend parchment with a ceramic pan. It's just easier cleanup. See it here.
COOKIE SHEETS
You'll want at least one of these. They are great, not only for cookies, but for roasting many different types of vegetables. See it here.
CAN OPENER
I think this is pretty self explanatory. In an emergency, you don't really need one. All you have to do is rub a can on cement until it opens. But for average home use, they are a necessary item. There are three types:
CITRUS PRESS OR JUICER
There are three types of juicers:
SLOTTED SPOON
These are great for when you are making something like pasta that has to cook in liquid. It allows you to pull out a noodle or whatever else you are cooking, to test and see if it's done cooking without bringing up a bunch of hot liquid with it. See it here.
SERVING SPOONS
These larger spoons are fantastic for scooping main dishes onto plates or into bowls. The word well for things like pasta salads and the like. See it here.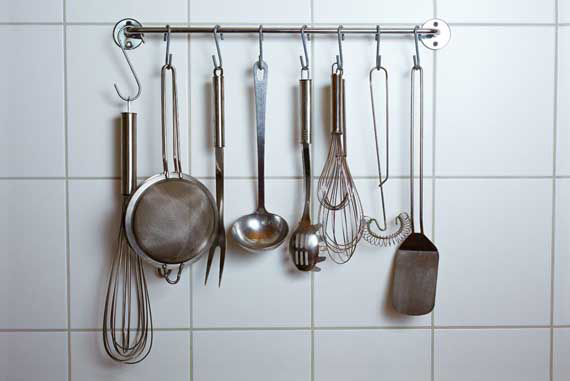 WOODEN SPOONS
For me, these are critical. I use them for everything. The type of wood they are made from will determine whether they last for years or for short-term use. Generally, the cheaper they are, the shorter life-span they will have. I usually shoot for middle-of-the-road on these because I don't want to cry if one breaks. See it here.
PIZZA CUTTER
I realize you can use a knife for this sort of thing, but some jobs are just made easier with a pizza cutter, and I don't just mean cutting pizza. I've used this handy tool to cut everything from fruit leather to raspberry bars and fudge. It's just an easy way to cut certain foods. And as with most things, you get what you pay for. See it here.