I found 5 things this week for all my Low Carb readers that will help you survive this summer season.
TIFF'S PICKS #1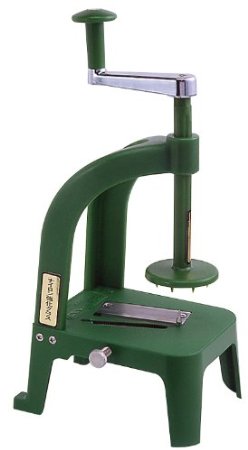 If you don't have one of these yet, life as you know it is about to change. In fact, I think  I can safely say that many of my lower carb recipes just would not happen without this incredible little contraption.
I've tried this one, and I've tried the hand-held one (like a potato peeler), and all I can say is that the hand-held peeler leaves a lot to be desired. Like…. oh, I don't know…. safety?? I mean, how exactly are you going to use that sharp thing with the teeth pointed right at your hand while you peel a zucchini or some other vegetable? I still have a cut on my palm to show that other methods are most likely safer.
But this spiralizer is amazing. I love it! I use it all the time. It's sturdy, FAR safer than the hand-held peeler and does the job at about 2 times the speed as well. You do end up with a small chunk of zucchini that doesn't get spiralized at the very end, but I just chop them up and toss them into my meal, or I snack on them while I cook to avoid "taste testing" too much. It's a win-win in my book! Even Mini Chef loves to eat zucchini this way. Especially when he gets to do the spirlizing!
Find the Spiralizer (affiliate link) on Amazon.com.
TIFF'S PICKS #2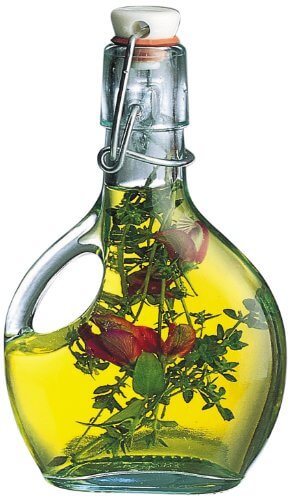 I get a lot of emails asking me where I got a particular dish that I have used in various food photos. I've been asked about everything from bee mugs to spice jars. But the question I get most often is about the different  bottles I use for my salad dressing shots. I make a lot of salad dressing because I usually cook with it too. Especially my Italian Dressing. It flavors meats, grains and so much more!
So I thought I would feature one of my favorite bottles. I got this one recently and have it coming up in a future salad dressing post. I love this thing! It's not overly huge like some of my bottles are, has a convenient handle, and the stopper is attached so I won't lose it. It's a great way to package up a dressing as a gift as well! A pretty tag and some ribbon, and you have a very personal gift for some one special!
You can find the set of 2 bottles on Amazon.com here. (affiliate link)
TIFF'S PICKS #3

You know how you're in the kitchen and you reach for a dish towel to dry something you just washed, and while drying, you realize that your towel just isn't drying anything at all? It's just sort of pushing the water around, leaving streaks everywhere? I hate that. But that's what comes from buying cheap towels.
I've had better quality towels in my life only once, and I can tell you that they were extremely difficult to part with. Like a high school boyfriend I was deeply in love with who had to move away because his dad got a new job in Oklahoma. Don't laugh, it happened. I cried for weeks. Well, okay, it was only 2 hours and then I noticed the cute guy in lab. But I digress…
It all happened when an old roommate decided to move out while I was gone for the weekend and took my dish towels with her.
First, disbelief set in. Then anger.  Those were my best towels!!! They dried my dishes so well they were like gifts from heaven. I called them angel's aprons because that's exactly how well they dried. And yes, I was very upset when they "went away".
But on the bright side, I will soon have some great new towels again, and they'll bring some fun and light heartedness to my kitchen as well. Aren't they darling?
Find them all at EmilyMcDowell.com
TIFF'S PICKS #4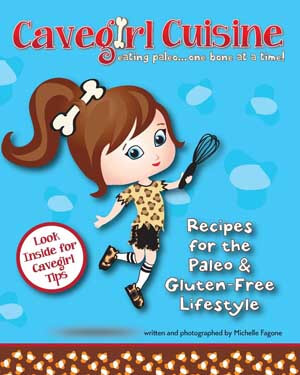 A while back Michelle over at Cave Girl Cuisine emailed me and asked if we could chat for a bit on the phone. Just a blogger-to-blogger, get-to-know-you sort of chat. Well, it turned into more of a laughing/snorting (yes, I snorted… twice), "girls-night-out", "feel-like-I've-known-you-forever" kind of chat and I think it's safe to say that we will keep in contact on some level for a while to come. Seriously, this chick is totally awesome!! (There's that "California accent" sneaking in again…)
Michelle is all about Paleo cooking and her new cookbook is just fantastic. I mean, HELLOOOOO!!! Sweet Potato Pancakes with Blueberry Maple Butter, Chunky Chocolate Cookies AND clean eating is involved??? I think I've died and gone to clean eating heaven!
Ya, those cookies are soooooo going to happen. And soon!!
Check  it out here on Amazon! (affiliate link)
TIFF'S PICKS #5


I think some of you know already that I can't live/cook/breathe/sleep/blink/toot without my Misto Oil Sprayer
(affiliate link). I have the silver one on the left in the top photo. But now I find out they have this fabulous raspberry color, and I'm completely convinced my life may end without it. I mean, it sprays, it stands there looking pretty, it uses healthy, clean oils, AND it's raspberry colored??? What more could a clean eating cook want in life???!!!