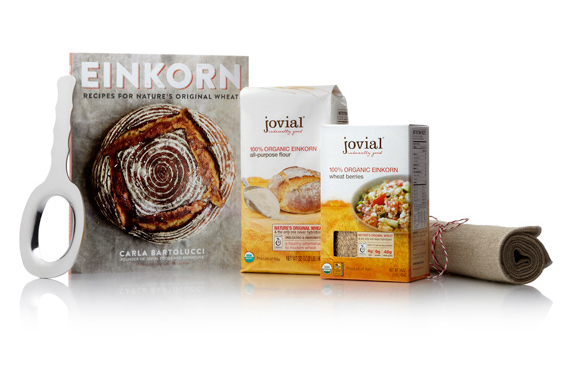 I was recently sent a copy of this wonderful cookbook as well as a small package of Einkorn flour.
The term is Germanic and means, "One Grain". It's what our wheat used to be before all this hybridization happened, and some folks who are sensitive to gluten handle this ancient wheat far better than the wheat we have today. Like Robyn O'Brian always says, "Are we allergic to our food or what's been done to it?". Food for thought….
So today, I'm offering a fun giveaway that includes:
The cookbook (autographed)
One 2 lb bag whole grain einkorn flour
One 1lb box of einkorn wheat berries
One linen couche
One dough spoon
And if you're not feeling too lucky but would like to give this a try, the company is offering my readers a discount of 15% off your entire order plus free shipping on everything but the cookbook which is already marked 25% off retail & the grain mill. Just used the coupon code: GPANTRY, which is effective one month from publication date.
THE COOKBOOK
Einkorn shares 100 delicious recipes for working with the grain and its flour in a wide variety of flavorful dishes, such as Yogurt Blueberry Muffins, Spinach Lasagna Bolognese, Neapolitan Pizza Margherita, and Soft & Chewy Ginger Cookies as well as sourdough and yeasted breads like Classic French Boule and buttery Sweet Potato Rolls. This book also explores einkorn's history, unique genetics, and superior nutrient content, while sharing Carla's tips for using einkorn to its full baking and cooking potential. Einkorn will introduce you to a delicious ancient grain that can transform the way you eat for the better by adding more nutrition and flavor to the foods you love.
THE FLOUR
Utilizing organic einkorn flour is a wonderful way to improve your wellness by bringing the purest wheat to your diet. Einkorn is nature's original wheat and has remained the purest because it was untouched by modern hybridization and large-scale agriculture.
It has:
A pleasing sweet flavor and silky texture
A rich content of the antioxidant lutein.
And is organically grown on small family farms in Italy
THE RULES
Contest open to residents in the continental US
Must be 18 years old to enter.
ENTER
a Rafflecopter giveaway