Today, I'd like to introduce you to Brande Plotnick. She's the fabulous blogger over at TomatoEnvy.com and she has some great info to share with you today on CSA's. CSA's are those wonderful boxes of produce that get delivered right to your doorstep from local farmers who believe in growing food the way nature intended. Take it away Brande!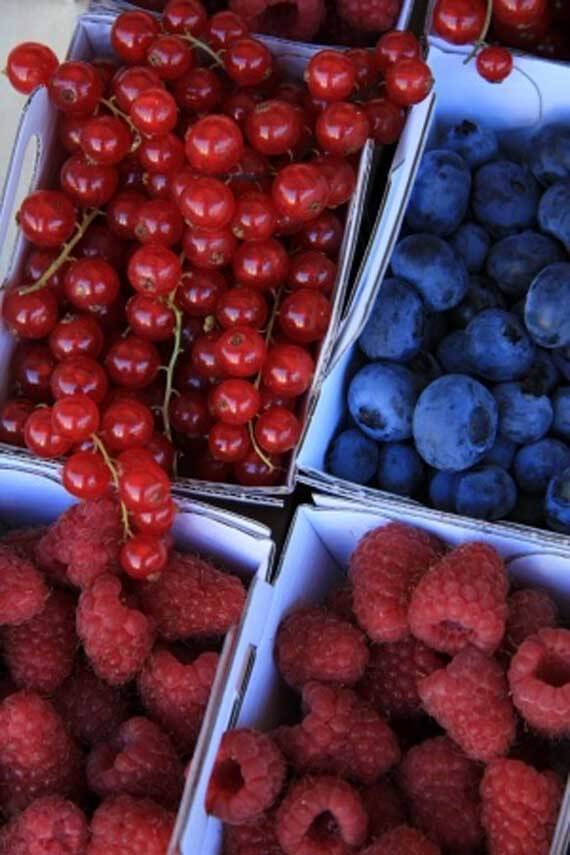 For many of us, the road to clean eating, meals made from whole food ingredients and avoiding processed foods can be a bumpy one. Knowing what to avoid is a good start, but the next step is ensuring that you have a reliable supply of the right foods, such as fresh produce.
Fresh fruits and vegetables are the cornerstone of any healthy lifestyle, regardless of your dietary beliefs. Consumers are increasingly interested in understanding where their food comes from. One way to accomplish this goal is to join a Community Supported Agriculture (CSA) program in your area. CSAs are popping up all over the country, and finding one may be easier than you think.
Community Supported Agriculture is a way for small-scale farmers, many of whom grow organically, to stay in business while providing their members with high quality food. In this model, consumers pay the farmer up front for an entire season of harvest. Because farmers often have large cash outlays prior to the season, they are getting paid when they need it most.
Farming is risky business, particularly for farms that are not growing massive amounts of government-subsidized corn or soybeans that will be turned into processed foods. A drought or unexpected frost can have significant impact on small farmers. CSA programs allow the farmer to share the risk with the consumer, and in return, their members get a steady supply of the best produce the season has to offer.
CSA members enjoy a great variety of produce which can significantly expand a family's food repertoire. My husband and I belong to a local CSA, and we are always excited to see what's going to be offered from week to week. We have learned that mashed celery root is a wonderful accompaniment to roast chicken and that mild salad turnips sprinkled with sea salt make a nice snack. We discovered what to do with garlic scapes, rutabagas, and hubbard squash. We also enjoy the peace of mind that comes from knowing our food was grown with great care and we are supporting a sustainable food system.
Having access to locally grown, high quality produce will turn you into a more discerning consumer. For instance, I can no longer bring myself to buy mealy, flavorless supermarket tomatoes that were grown thousands of miles from our home in the middle of winter. Nothing beats a local, vine-ripened tomato!
If you are interested in joining a CSA, here are some things to consider:
You can visit www.localharvest.org to find CSA programs near you. Even if you live in an urban or suburban area, you might be surprised at the number of farms close by.
Divide the total cost of joining the CSA into the number of weeks in the season to get an idea of how that weekly amount fits in with your overall food budget.
Make certain that the food pickup times and location fit your family's schedule. Consider asking a friend or neighbor to be on "stand-by" in case you are unable to make a weekly pickup. If you ever have to call in the favor, share your produce with them as thanks.
Don't be afraid to try new recipes and ways of preparing foods. Kale doesn't always need to be cooked, and radishes don't always need to be raw. Beet greens taste great sautéed with olive oil and garlic. Expanding your horizons will help ensure that none of your produce goes to waste.
Engage the whole family. The CSA I belong to has their pickups at the farm where everything is grown. Parents can bring their children along and the farmers teach them about food. Living as we often do in our suburban neighborhoods with our TVs, video games, and convenience foods, it's not surprising that most people don't understand the amazing nature that produces what we eat.
If you really like your CSA and it works for your family, don't limit yourself to just vegetables. Some farms will partner with others to also offer the highest quality dairy products, pastured eggs, and grass-fed meats.
If you're not quite ready for the commitment of joining a CSA, try shopping for more of your produce at local farmers markets as a start. You'll still get local, seasonal produce while getting to know the farmer who grew it.
About The Author:
After many years in the corporate world, Brande Plotnick discovered that her real passions were right in her own home.  Brande is a self-taught home cook, gardener, writer, and entrepreneur who started  TomatoEnvy.com in 2012 as a way to inspire others to find their deliberately decadent life at home.  Brande's down-to-Earth style and approachable manner have been winning over the readers who follow her blog.
And if you need a little more convincing that CSA's are a wonderful choice, check out this video on the 3 Lies About Food You're Used To Hearing And Might Even Believe.