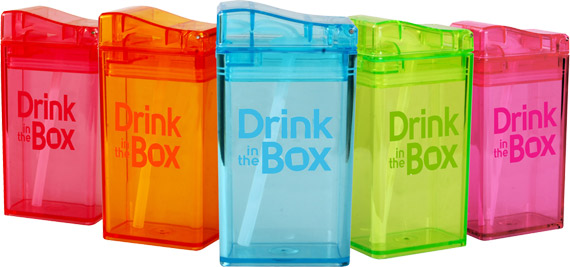 Precidio wanted to create a product to replace disposable juice boxes and create an alternative for parents to reduce the sugar their children were consuming when they hydrate. So they set out to make the ultimate travel drink box.
They wanted something that was super easy for parents to use – which meant it needed to be packable, leak-proof, dishwasher safe and something that the kids would love. (Because let's face it, who needs to add yet another kid/parent stand off to the day). And, since one of the primary times kids drink juice boxes is lunchtime, it needed to fit into the lunch box. This is when Drink in the Box was born.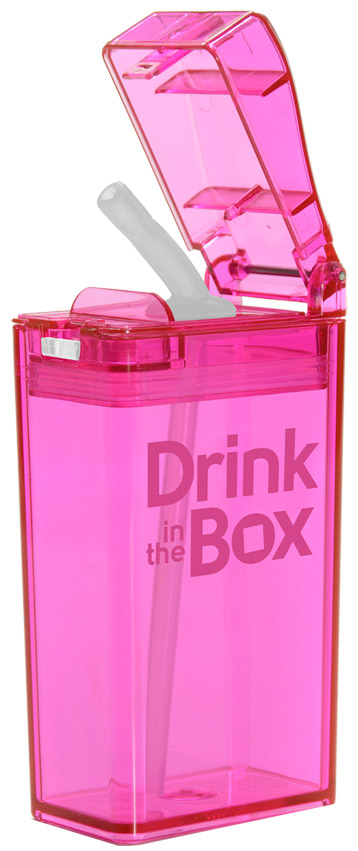 There are many reasons Drink in the Box is a better drink, but here are some of the top ones:
Drink in the Box is earth friendly and reduces trash. Yup, billions of empty juice boxes are thrown into the trash every year. And it will take more than 300 years to biograde. A big Green thumbs up here.
They are see-through so you can actually see what your kids are drinking. Have you done a google search lately on "mold in juice boxes?" – yuck!
It can be filled with low-sugar drinks. This is the biggest one. Did you know that the average disposable juice box can hold up to 7 teaspoons of sugar? Just 2 disposable juice boxes a day add up to 30 pounds or 13 kilograms of sugar each year from this source alone!
I have the orange reusable juice box and I have to say that Mini Chef really enjoys using it. It's a fun way to pack his lunch and he looks forward to using it every day. We love ours! And I love that I don't have to worry about mold.
So enter below for your chance to win! But if you absolutely must have one now, here they are on Amazon.
Good luck!
Prize: One pair of Drink in the Boxes (colors dependent on stock)
Contest open to: USA and Canadian residents only
Contest ends: 10/20/15 – 10pm PST