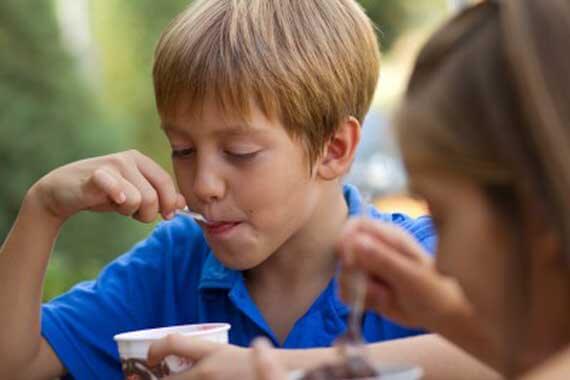 As many of you know, feeding kids clean and healthy foods is a passion of mine. This article was recently submitted to me and I simply had to share it with you. I hope you'll enjoy it as much as I did.
As a health counselor, I'm often asked by well-meaning parents how to disguise healthy foods so that kids will eat them. The simple answer is that they shouldn't be disguised. As soon as babies have all their teeth, they are able to eat what grown-ups eat and they should! Fresh fruits and vegetables, wild-caught fish, free-range poultry and eggs, and grass-fed meats all contain important nutrients, vitamins, and minerals that kids need for their growing bodies and brains. On the other hand, sugars and processed foods don't contain nutrients and, on the contrary, deplete the body of important minerals.
So before you reach for that boxed macaroni and cheese, processed chicken nuggets or a so-called "healthy" packaged breakfast bar, here are five ways to get kids on board for clean eating:
Introduce different, highly nutritious flavors to kids at a young age so they start to accept different foods. And I'm not just talking peas and carrots. Kids like foods that are tactile so let your kids dip crackers or vegetables dips such as hummus and avocados; or you can add a variety of vegetables to tomato sauce and serve with whole wheat or brown rice pasta. My youngest child loves artichokes dipped in mayonnaise (for a healthier option, make the mayonnaise yourself so you can be sure there are no preservatives). Another option is to pulverize a variety of vegetables such as broccoli, cauliflower and kale. Mixing sweet vegetables such as carrots, butternut squash or caramelized onions to the purees can make them more appealing to small kids.
If you have older kids, remember that it takes seven times to make something a habit. I like to do this in creative ways. For instance, you can present the same food in different ways—try roasted butternut squash one day, then butternut squash and apple soup on another day, and butternut squash puree on a third day. You can always try adding a new vegetable to a dish like risotto or fried rice so that your child can have an "out" if he or she really doesn't like the chosen vegetable.
Just because you don't like a nutritious food, doesn't mean your child will dislike it. If you don't like broccoli, don't let on to it with your kids. Encourage them to try everything. There's a rule at my table: Try it at least one time; if you don't like it, you don't have to eat it.
The converse is also true, just because you love a food doesn't mean your kids will too. Don't make dinner a battle. If your child really doesn't like a food, that's Ok. You can always try again at another time. Tastes, especially in growing children, change. When I was a child, I refused to eat Ratatouille (a summer vegetable stew made with eggplant, zucchini and tomatoes) and today it is one of my favorite things to eat during the summer months.
We know the benefits of sitting down to a meal with your children, ranging from improved family communication to better school performance and nutrition. But before you sit down for a meal, also consider getting kids involved in the cooking process. When kids are involved in the kitchen—as well as in the produce aisle—they begin to learn where food comes from, and, more importantly, become more interested in trying new foods. One of my daughters loves to make mayonnaise so she will be more willing to try different vegetables (such as asparagus, artichokes, or cauliflower) if she can dip them in her homemade mayonnaise.
For some reason, we have been led to believe that kids won't eat whole, real foods. And yet, for hundreds of years, children ate natural foods that didn't need to be disguised in something else, or that didn't come out of a box. We need to get back to basics and teach our children about the benefits of eating foods in their natural state. Not only are they loaded with essential nutrients, vitamins and minerals, but they taste great too!
Rachel Khanna is a holistic health counselor, chef and author of the Live, Eat, Cook Healthy: Simple, fresh, and delicious recipes for balanced living. She trained at the renowned Institute of Culinary Education and founded her organic catering business,Tiffin, in Greenwich, Connecticut. Rachel is also a certified health counselor and food therapist and she continues to pursue her studies in holistic health. www.liveeatcookhealthy.com.