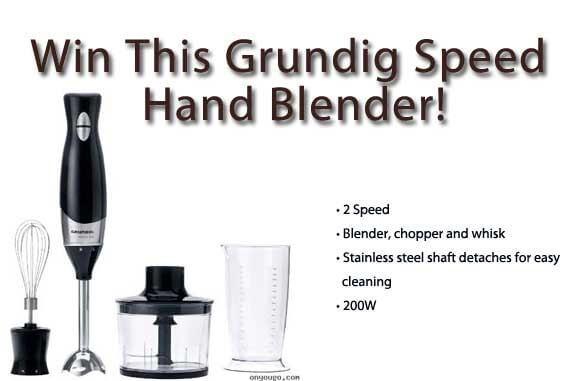 Publishing this blog has allowed me to meet some really amazing people over the years. I've read your heartfelt emails, shared your tears of sadness and even laughed till I nearly fell out of my chair at your jokes and funny stories.
My blog has also helped me pull my family out of poverty and get us back on our feet for the most part, after job loss and foreclosure. And as the years roll on, I'm sure there will be many more amazing experiences and wonderful people who will enter my life just because of this little blog I started not so long ago.
In fact, I am so grateful for the success of my blog and all of you who read it, that I thought it was high time I started giving something back.
Starting today, every time you leave a comment here on my blog, on any page of my site (scroll to the bottom of any page), you will automatically be entered to win!
Prizes will be determined monthly. One winning comment will be selected every month from now until December 2013. A whole year of prizes!
Possible prizes are:
My cookbooks
Slow cookers
Kitchen gadgets
and much more.
And all you have to do is leave a comment to enter!
HOW IT WORKS
NUMBER  AND QUALITY OF COMMENTS: The number of comments you leave is not limited. The more you comment, the more chances you have to win. HOWEVER, (and this is critical) please make sure you actually have something to say. I will not accept comments that say things like, "cool" or "I want to win something". Please be respectful in your comments and contribute to the community here with integrity.
EXTRA ENTRIES
Get extra entries for doing any of the following (just be sure to come back tell me you did it in another comment! Think of each comment as an entry):
Pin 10 of my recipes (previous pins do not count)
Subscribe to my YouTube Channel
Share 5 of my recipes on Facebook (previous shares do not count)
Retweet 10 of my recipe tweets (previous retweets do not count)
Share 3 of my recipe posts on Google+
Subscribe to my blog (new subscribers only)
CONTEST OPEN TO: USA and Canada (for all prizes). Australian and European residents may also enter, however prizes will be limited to my list of ebooks (pdf files I can email you). So basically, this contest is open to everyone, with only a slight restriction where prizes are concerned.
CLOSING DATES: A winner will be selected at the end of every month. Winners will be listed here on this page, and a notification email will be sent to the winner as well.
DISCLAIMER: Please know that all prizes and shipping is paid for by me. I was not paid to promote any products through this contest. For this reason, the prizes offered are at my discretion and I may choose any comment at any time at my sole discretion. I reserve the right to update and change this contest as needed for the duration of the contest. Contest is null and void where prohibited by law. No purchase necessary to enter. Winners are picked at random and typically, I will use random.org to appoint a winner.
[ws_table id="6″]
OFFICIAL RULES
ELIGIBILITY
The contest is open to legal residents of the (50) United States and the District of Columbia who are at least eighteen (18) years old at the time of entry. The contest is subject to federal, state and local laws and regulations.
NON-USA RESIDENT ELIBILITYThe Contest is also open to Canada, Australia and Europe with special restrictions on prizes. The only prizes offered to these areas will be in the form of digital files, namely eCookbooks (pdf. files which can be emailed).
SPONSOR
The contest is sponsored by TheGraciousPantry.com. (The Sponsor)
AGREEMENT TO OFFICIAL RULES
Participation in the Comment To Win Contest (The Contest) constitutes entrants full and unconditional agreement to and acceptance of these Official Rules and the decisions of the Sponsor, which are final and binding. Winning a prize is contingent upon being compliant with these Official Rules and fulfilling all other requirements set forth herein.
CONTEST PERIOD
The contest begins on 11/27/2012 at 12:00am at www.TheGraciousPantry.com and ends on 12/31/2013 at 11:59pm. Entries that are submitted before or after the contest period will be disqualified. Submissions will be accepted for the duration of the contest using any of the following methods:
HOW TO ENTER
Comment on any page of The Gracious Pantry web site (www.TheGraciousPantry.com). There are no limits on the number of entries. Entries received at any other platform, such as Facebook or Twitter will be null and void. Entries accepted only at The Gracious Pantry web site. Acceptance of each entry is at the sole discretion of The Sponsor.
PRIZE DRAWING
On or about the last day of each calendar month, the Sponsor will select potential winners in a random drawing from among all eligible entries received in that calendar month. The odds of being selected depend on the number of entries received. The Sponsor will attempt to notify the potential winner via email on or about the last day of each calendar month. If the potential winner cannot be contacted or does not respond within five (5) days after the date of the first attempt to contact him/her, The Sponsor may select an alternate potential winner in his/her place at random from the remaining non-winning, eligible entries.
WINNER NOTIFICATION
The potential winners will be notified by email as well as having their name published on this contest page on www.TheGraciousPantry.com web site. In the event that a potential winner is disqualified for any reason, Sponsor will award the applicable prize to an alternate winner by random drawing from among all remaining eligible entries. Only three (3) alternate drawings will be held, after which the prize will remain un-awarded. Prizes will be fulfilled approximately 4-6 weeks after the conclusion of each monthly drawing.
PRIZES
Prizes are subject to change.
Prizes may include, cookbooks in either published or electronic form, slow cookers, slow cooker lunch warmers, kitchen utensils such as baking sets (spatulas, wooden spoons, and similar items) or other prizes deemed appropriate by The Sponsor. Prizes are chosen at the complete discretion of The Sponsor.
GENERAL CONDITIONS
In the event that the operation, security, or administration of the contest is impaired in any way for any reason, including, but not limited to fraud, virus, bug, unauthorized human intervention or other technical problem, or in the event the contest is unable to run as planned for any other reason, as determined by The Sponsor in its sole discretion, The Sponsor may, in its sole discretion, either (a) suspend The Contest to address the impairment and then resume The Contest in a manner that best conforms to the spirit of these official rules or (b) terminate the contest and, in the event of termination, award the prize at random from among the eligible, non-suspect entries received up to the time of the impairment. The Sponsor reserves the right in its sole discretion to disqualify any individual it finds to be tampering with the entry process or the operation of the contest or to be acting in violation of these Official Rules or in an unsportsmanlike or disruptive manner. Any attempt by any person to damage the web site or undermine the legitimate operation of the contest may be in violation of criminal and civil law, and should such an attempt be made, the Sponsor reserves the right to seek damages (including attorneys fees) and any other remedies from any such person to the fullest extent permitted by law. Failure by the Sponsor to enforce any provision of these Official Rules shall not constitute a waiver of that provision.
RELEASE AND LIMITATIONS OF LIABILITY
By participating in the contest, entrants agree to release and hold harmless The Sponsor, and each of their respective parents, subsidiaries, affiliates, advertising and promotion agencies, other companies associated with the contest, and each of their respective officers, directors, employees, representatives and agents (the Released Parties) from and against any claim or cause of action arising out of participation in The Contest or receipt or use of the prize (including any travel or activity related thereto), including but not limited to: (a) any technical errors associated with the contest, including lost, interrupted or unavailable Internet Service Proider (ISP), network, server, wireless service provider, or other connections, availability or accessibility or miscommunications or failed computer, satellite, telephone, cellular tower or cable transmissions, lines, or technical failure or jumbled, scrambled, delayed, or misdirected transmissions or computer hardware or software malfunctions, failures or difficulties; (b) unauthorized human intervention in the contest; (c) mechanical, network, electronic, computer, human, printing or typographical errors; (d) any other errors or pronblems in connection with the contest, including, without limitation, errors that may occure in the administration of the contest, the announcement of the winner, the cancellation or postponement of the event, if applicable, or in any contest-related materials; or (e) injury, death, losses or damages of any kind, to persons or property which may be cause directly or indirectly, in whole or in part, from entrant's participation in the contest or acceptance, receipt of misues of the prize, (including any travel or activity related therto). Entrant further agrees that in any cause of action, the Released Parties liability will be limited to the cost of entering and participating in the contest and in no event shall the entrant be entitled to receive attorneys fees. Released Parties are also not responsible for any incorrect or inaccurate information, wheather caused by site users, tampering, hacking, or by any equimpment or programming associated with utilized in the contest. Entrant waives the right to claim any damages whatsoever, including, but not limited to, punitive, consquential, direct or indirect damages.
DISPUTES
Except where prohibited, each entrant agrees that any and all diputes, claims and causes of action arising out of, or conneted with, the contest or any prize awarded shall be resolved individually, without resort to any form of class action, and exclusively by the appropriate court located in Sonoma County. All issues and questions concerning the construction, validity, interpretation and enforceability of these Official Rules, entrant's rights and obligations, or the right and obligations of The Sponsor in connection with the contest, shall be goverend by, and construed in accordane with the laws of California, without giving effect to any choice of law or conflict of law rules, which would cause the application of the laws of any juisdiction other than California.
PRIVACY
Information collected from entrants is subject to sponsor's privacy policy.
WINNER LIST
To request the name of the winner send a self-addressed, stamped envelope to The Gracious Pantry, P.O. Box 1141, Sebastopol, CA 95472. Winner List requests will only be accepted after the promotion end date (listed above). For the Winner List, you can also send an email to [email protected] or return to this contest page.