Not too long ago, the government left the food pyramid in the dust and came up with something called MyPlate. While it still leaves a lot to be desired, I think it's far better than the pyramid which did nothing but confuse people.
I did my own version of what a clean eating pyramid might look like. And, of course, as soon as I got that done, our lovely government changed to a plate. Figures.
So while this is a little past due, here is an update on the MyPlate in clean eating terms. I simply adjusted the government's version to approximate what a clean eater's plate might look like. This is not an exact science. Just a rough estimate, much like the one from the government.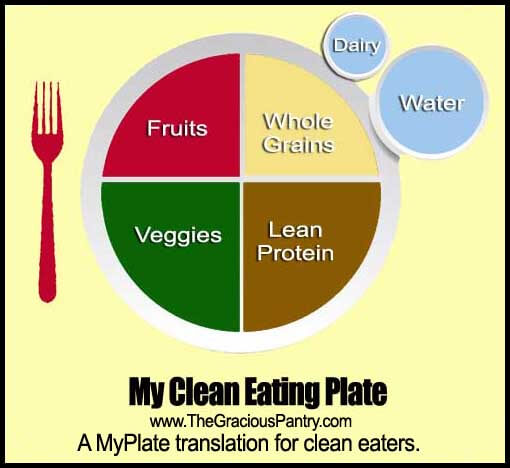 This graphic leaves no room for personal differences in eating plans. Allergies and such are not accounted for here. But it's a somewhat decent overview of what your plate might look like at any given time.
Personally, I either go with veggies OR fruits. I rarely do both in the same meal unless the fruit is dessert.
But as I said, the original version leaves a lot to be desired, so chances are, this version does too.
I'd be interested to hear your thoughts!