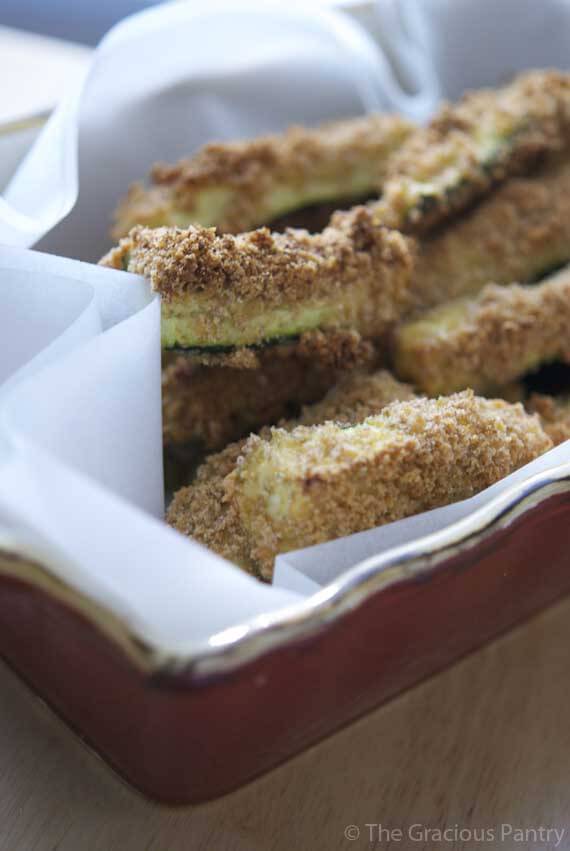 Sometimes, a frazzled mom just wants her kids to eat their veggies, and with some kids, that's no small undertaking.
I'm blessed to have started Mini Chef on nothing but veggies in the beginning, so he loves his veggies in all shapes and sizes. Brussels sprouts aren't exactly his thing, but considering he loves spinach, zucchini, and broccoli, I think I can back off a bit on the sprouts.
But some moms aren't so lucky. They have to come up with all sorts of trickery just to get some great into those little tummies. And this recipe, could very well help in that endeavor.
If you are making these for kids, cut your strips of zucchini thin and more "bite-size". For adults, thicker cuts are fine. Either way, the zucchini will be eaten, and that my fellow moms and dads, is what meal time is all about. Right?
YOU MIGHT ALSO ENJOY: 

Clean Eating Zucchini Sticks
Ingredients:
Zucchini, cut into quarters lengthwise
Eggs OR egg whites
Directions:
Set up your bread crumbs in one bowl, your eggs in another bowl and your zucchini in a 3rd. Also prepare a cookie sheet lined with parchment. Preheat your oven to 350 F.
Dip the zucchini pieces in the egg, and then into the breading. Then place on the cookie sheet. Repeat until you've finished all the zucchini.
Bake for 30-45 minutes or until the zucchini reaches the level of doneness you prefer. Test by poking with a fork.
Allow to cool and serve.