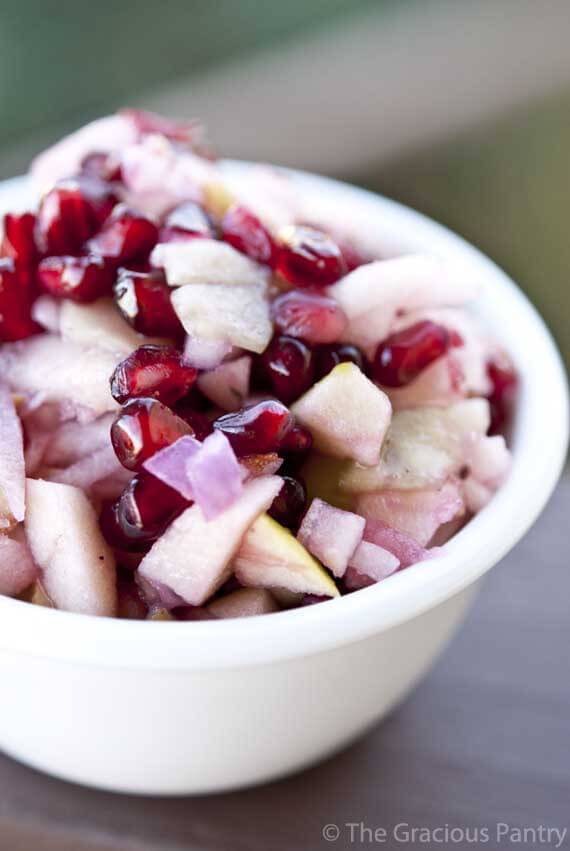 Fruit makes wonderful salsas, and winter fruits are no exception. A little sweet, a little spice, and tons of nutrition, fruit salsa makes a fabulous side dish or even side salad.
The fruits are mild flavored, so the flavor of the onion really kicks in. But it's not overwhelming, it's just the right mix of sweet and savory. This dish would be perfect paired with some chicken or fish or simply served with some clean eating baked chips.
YOU MIGHT ALSO ENJOY: 

Clean Eating Winter Jicama Salsa
Ingredients:
1 small jicama, peeled and chopped
1 medium pear, peeled and chopped
1 large pomegranate, de-seeded (watch video here for how to do it in under a minute!)
1/2 large cucumber, peeled and chopped
1/4 red onion, chopped
1/2 large green apple, chopped
1 jalapeno pepper (optional)
Salt and pepper
Directions:
Chop everything except the pomegranate seeds as fine as you can and mix everything together in a large mixing bowl.
NOTE: If your fruit is not very sweet, you may want to add a touch of honey to this. Some salt will really help bring out the flavors though. Also, if you have the time, let this sit overnight prior to serving. The onion melds with the flavors of the fruit and it becomes even better.