Clean Eating Whole Grain Pumpkin Parmesan Risotto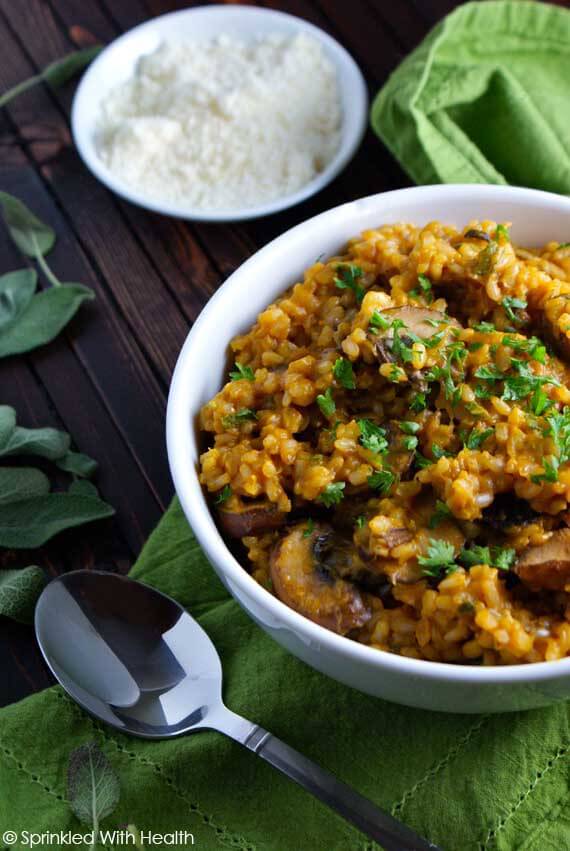 My amazing mother, whom I lovingly call Momma Bush, is an amazing cook. I don't think she's ever made a single thing in my life that I didn't enjoy eating. But like every other home cook in America, she has her specialties; she has a knack for creating incredibly decadent desserts, well balanced salads, and creamy, comforting risotto.
So for me, eating risotto, which is a comfort food already, becomes even more heartwarming due to the fact that it reminds me of Momma Bush. Whenever I make it, my mind goes back to my childhood: I picture my mother, in an old tee-shirt, standing in front of the stove, patiently stirring a huge pot of risotto, while trying not to step on the hungry little dachshund eager to catch crumbs at her feet. Whenever I make risotto, this image runs through my mind, and my heart is instantly filled with joy.
Therefore, it will come as no surprise that this pumpkin parmesan risotto with mushrooms and sage is one of my favorite recipes I've created this year. Not only does it remind me of my mother, it also includes my absolute favorite seasonal ingredient: pumpkin. It's pretty safe to say that even if I were having the worst day of my life, as long as this dish was waiting for me in the fridge when I got home, the world would somehow feel at peace.
An additional bonus of eating this risotto, aside from the obvious comfort it will likely make you feel, is the fact that it is totally guilt free and made of whole grain brown rice. And with only a teaspoon of oil and 1/4 cup of cheese in the entire recipe, this is a comfort food you'll be able to enjoy without any regrets.
YOU MIGHT ALSO ENJOY:

Clean Eating Whole Grain Pumpkin Parmesan Risotto
Author:
Ingredients
1 cup short grain brown rice
1 3/4 cups chicken or vegetable broth
1 teaspoon olive oil
8 once container sliced mushrooms
1/2 sweet onion, diced
2 tablespoons chopped fresh sage
1/2 cup pumpkin puree
1/4 cup grated parmesan cheese
Salt and pepper to taste
Instructions
In a pot, combine your rice and broth and bring to a boil. Reduce heat to a simmer and let cook for 45 minutes, covered. Once that time is up, remove from heat and, keeping the lid on, let stand for 10 more minutes.
While the rice cooks, heat a skillet to medium low and add your olive oil. Add mushrooms, onion, sage, and a pinch of salt and pepper and cook for about 10 minutes, or until soft. Drain of excess liquid, and set aside.
When rice is finished cooking, add your pumpkin, parmesan cheese, and sauteed mushrooms and onions to the pot. Stir to combine.
Season with salt and pepper to taste and serve warm.