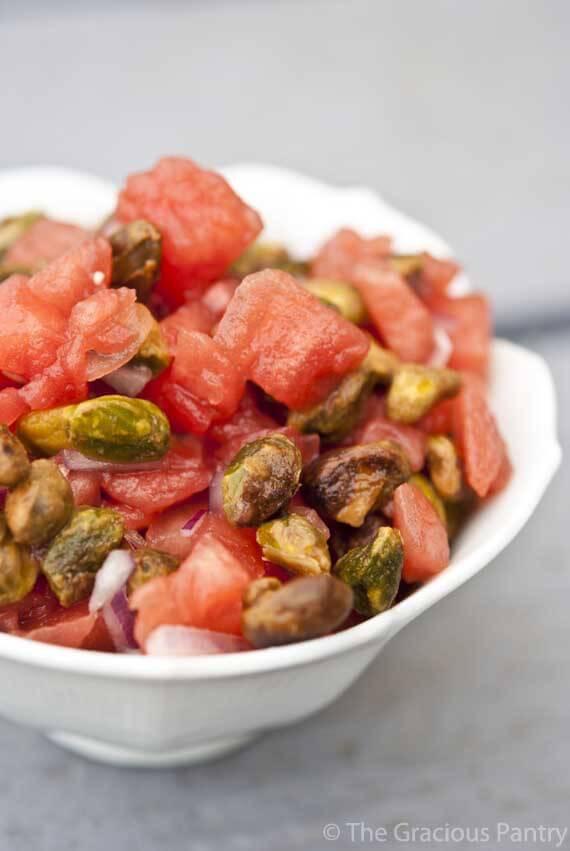 I know.
Watermelon in January.
Most people don't put watermelon and January in the same sentence. But did you know that watermelon is actually available in most areas, year round?
I was asked to create a watermelon recipe for a Kitchen PLAY event, sponsored by the National Watermelon Promotion Board. And while I wasn't sure at first if I could even find watermelon in January, I was more than eager to create something unique and tasty using one of my favorite fruits.
Some of watermelon's best attributes are that they are 92% water, (so you can "Fill Up Without Filling Out"), and have tons of vitamins A, B6 and C. What's not to love? And this delicious salsa is sure to keep guests around the appetizer table munching on healthy, whole foods!
YOU MIGHT ALSO ENJOY:

Clean Eating Watermelon Pistachio Salsa
Ingredients:
2 cups chopped watermelon
1 cup shelled pistachios meats
1/4 cup chopped red onions
Juice 1/2 a lemon
Pinch salt (omit if the nuts are salted)
Directions:
Chop everything fine and mix together.
DISCLOSURE: This post is sponsored by the National Watermelon Promotion Board and Kitchen PLAY, but all opinions expressed are my own.