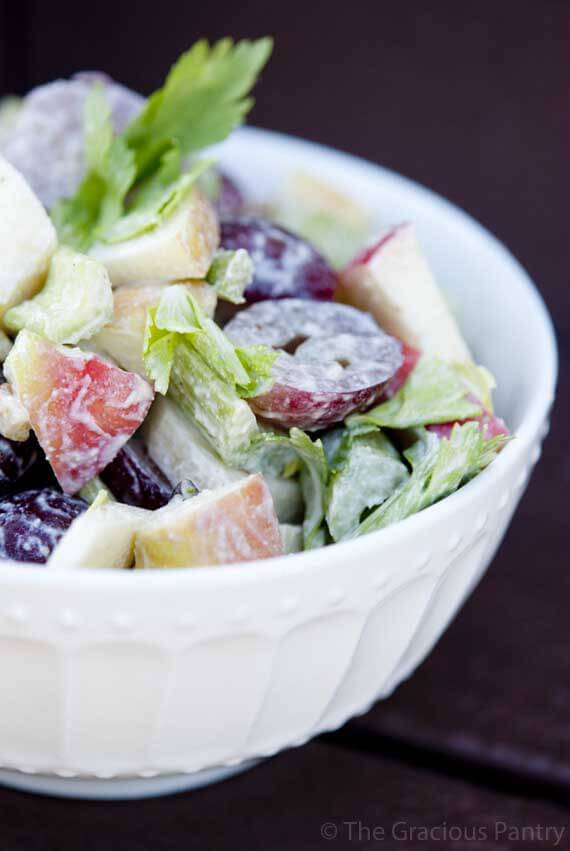 Waldorf salad is a wonderful salad for spring and summer. It's light and filling and filled with all sorts of flavors.
The term "Waldorf" seems to crop up in my life repeatedly. I've stayed at the Waldorf Astoria hotel in NYC and I attended a Waldorf school as a child and my grandmother was a Waldorf school teacher. (The Waldorf educational system I was raised with was created because of the Waldorf cigarette company.) So as you can see, Waldorf has been a part of my life pretty consistenly. So in that respect, I thought it was only fitting that I make a Waldorf salad for my blog here too.
A little history on the salad (From Wikipedia):
The salad was first created between 1893 and 1896 at the Waldorf Hotel in New York City (the precursor of the Waldorf-Astoria Hotel, which came into being with the merger of the Waldorf with the adjacent Astoria Hotel, opened in 1897).[1] Oscar Tschirky, who was the Waldorf's maître d'hôtel and developed or inspired many of its signature dishes, is widely credited with creating the recipe.
YOU MIGHT ALSO ENJOY:

Clean Eating Waldorf Salad
(Makes approximately 7 cups)
Ingredients:
2 cups chopped apple
2 cups chopped celery
1 cup chopped walnuts
2 cups red grapes, halved
1/4 cup eggless cashew mayo with honey and lemon juice added to taste
Directions:
Combine all ingredients together in a large mixing bowl, chill and serve.