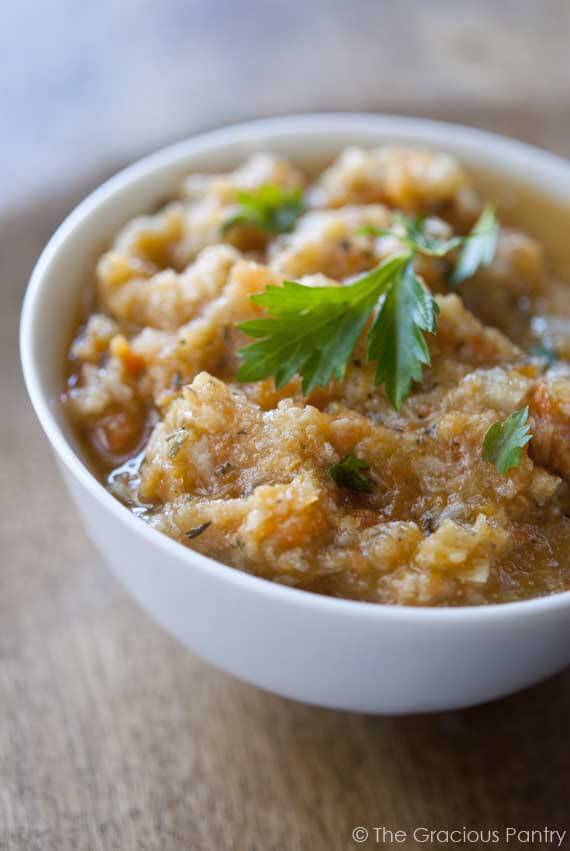 This chowder is one of those recipes many people would make when they are plunging head-first into a new eating plan. The motivation is high, the will power is strong, and suddenly, more vegetables seem like a really great idea. But it's also a wonderfully pleasant way to get some veggies into your day regardless of your motivation level or the status of your eating plan. It's great for "cleansing" (if you're into that sort of thing, which I'm not), it's meatless (although you could use chicken broth and add chicken if you like) and is just an all around great way to help meet your veggie quota.
Now don't get me wrong, I'm not trying to call this "diet soup". Heaven forbid! I'd have to whip myself with a wet noodle if I did that. But the simple truth is, this is the time of year where people get into that mindset. They are open to eating more veggies, drinking more water and hitting the gym at ungodly hours. They are willing and excited to start on a new path. And I think it's great! But I also think we have to approach this new found enthusiasm with some measure of reality in our expectations.
Yes, we all need to eat more vegetables. Yes, we all need to eat healthier, and yes, 3am can be an excellent time to get a workout in before the morning crowd really settles into the seemingly inadequate amount of equipment in January. But if you are opting for a true lifestyle change, you have to make the small changes that will become your daily habits. Big changes are great, but they can be tough to keep up with if you are plunging into them with no real plan.
So I recommend starting with simple things. Because it's those things that will keep you on track beyond February or March. Things like finding tasty ways to incorporate more veggies into your eating plan.
YOU MIGHT ALSO ENJOY:

Clean Eating Vegetable Chowder
(Makes approximately 7 cups)
Ingredients:
5 cups vegetable stock + extra for desired consistency (extra is optional)
1 small head cauliflower, cleaned and broken into small florets
1 lb. organic baby carrots
2 1/2 cups sliced celery (1 small head)
1 tbsp. garlic powder
1 tbsp. onion powder
1 tbsp. dried thyme
1 tsp. dried rosemary
Directions:
Combine all ingredients in a pot and cook at a low to medium boil until the vegetables are all soft.
Blend slightly to get a chunkier consistency as shown above. Blend a lot to get more of a soup.
Serve with clean, toasty bread or clean garlic bread.
Preparation time: 10 minute(s)
Cooking time: 20 minute(s)