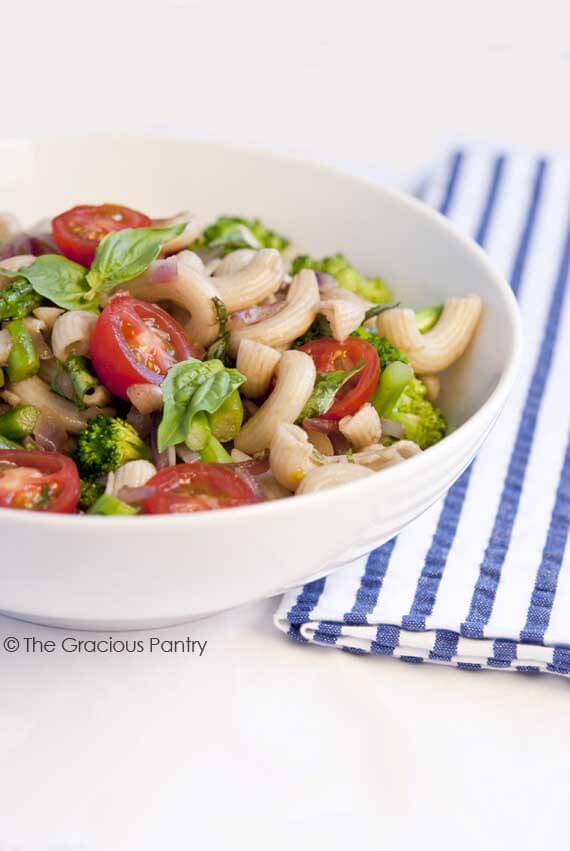 Busy school or work nights need quick and simple dinners. But you don't have to sacrifice flavor or health with a microwaved dinner from the freezer section at your local grocery store. Fresh and healthy can be just as convenient, and just as delicious.
This recipe actually came about because I realized I have not done any macaroni salads yet. Five years of blogging, and not a single macaroni salad. I have a few more versions in the works to correct this massive oversight. I mean, no self respecting food blog should be without a good macaroni salad recipe, even a clean eating one! So rest assured, I will not leave you hanging or deprived in that department any longer.
The truth is, macaroni salad makes a wonderfully quick dinner for Mini Chef. And with three blogs, three classes in culinary school, a part time job and a child, this mama needs all the super-fast, nutritions meals she can get her hands on. And I'm sure I'm not alone in that!
Once the pasta is cooked, this meal comes together in about 20-30 minutes (and you can do most of it while the pasta cooks!). You can even make this process faster by cooking the pasta and chopping the veggies ahead of time. This is a great recipe to prep on Sunday to enjoy on a busy Monday night. And lets face it, few things get the family to the dinner table like pasta!
Side benefit: This is vegan/vegetarian! Perfect for a Meatless Monday dinner!
YOU MIGHT ALSO ENJOY:

Clean Eating Vegetable Basil Macaroni Salad
Author:
Ingredients
4 cups cooked, whole grain macaroni
1 tbsp. olive oil
1 small, red onion, chopped
3/4 lb. asparagus, chopped
2 cup broccoli florets
3 cloves garlic, chopped
1/4 – 1/2 cup chopped, fresh basil or to taste
2 cups halved cherry tomatoes
1 tbsp. balsamic vinegar
Salt & pepper to taste
Instructions
Cook pasta to package directions
In a large skillet, warm the olive oil, then add the onions, asparagus, broccoli and garlic.
Sauté the vegetables until they are cooked to your liking, remove from heat and set aside.
Strain the pasta and measure it into the pan with the vegetables.
Also add in the basil, tomatoes and vinegar.
Toss well, adding salt to taste.
Serve with a side of whole grain garlic bread and a salad.