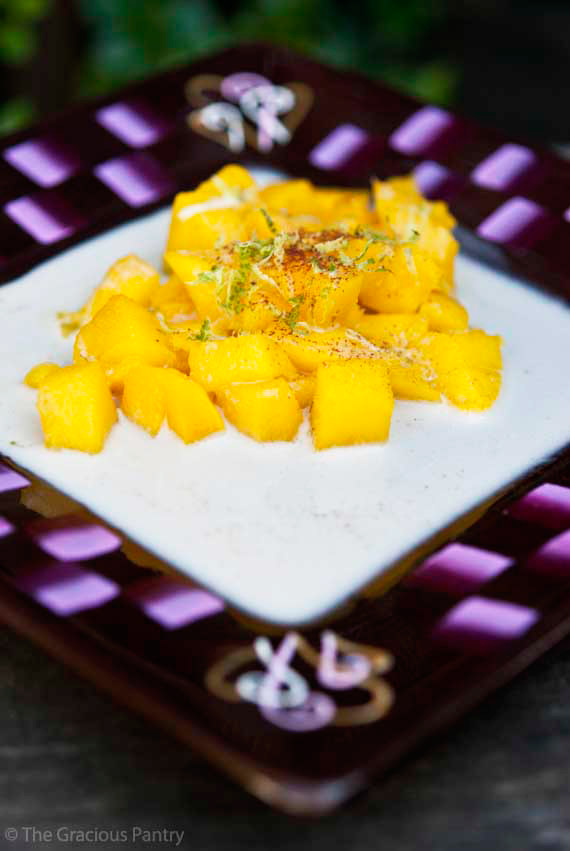 A while back, I decided that any dessert recipe I made this summer was going to be fruit based. I'm not sure I should have made that little bet with myself (or more than 4000 facebook fans!), but I will say that this is turning out to be a fun adventure! 
To me, mangos are one of those quintessential summer fruits. I really just cannot picture a summer without mangos. I can eat a whole one right off the seed all by myself and still want more when I'm done, strings in my teeth and everything.
So I figured a mango recipe would be a great way to kick off this fruit dessert "marathon" I'm about to embark on. We'll see if I can really stick to my plan and avoid baking for an entire summer. The odds are stacked against me, but I'm always up for a good challenge. I miss my oven already!
YOU MIGHT ALSO ENJOY:

Clean Eating Tropical Mangos And Cream
(Makes 4 servings)
Ingredients:
4 mangos, peeled and cubed
1 (15 ounce) can light coconut milk
3 tablespoons apple juice concentrate
1 teaspoon vanilla extract
Zest of 1/2 a lime
Dash of cinnamon
Directions:
In a mixing bowl, combine the coconut milk, apple juice concentrate and vanilla. Stir until everything is well dissolved and blended.
Put some mangoes in a bowl and pour the sauce over it.
Sprinkle a bit of lime zest and cinnamon over the top, and serve.