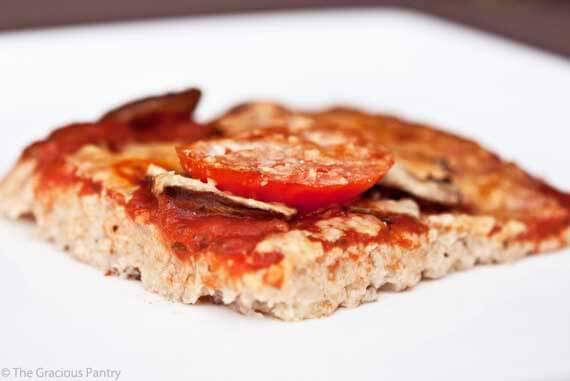 Over the past few months, I've heard whisperings about a cauliflower pizza crust. I was intrigued.
So when I found myself with 5 heads of cauliflower in the fridge (not sure how that happened exactly…) I knew this was my chance to give it a whirl.
I will be the first to admit that this is not a "normal" pizza crust. In fact, we ended up eating our pizza with spoons. But I'm here to tell you that the explosion of flavor that came from this dish was so amazing and so delicious that the entire pizza was gone by the time dinner was done. And believe me, that's sayin' something. This is a big pizza!!
The crust itself holds together, but it's not something you can pick up with your hands either. Honestly though, I question whether I will ever eat regular pizza crust again. This was just so crazy good I can't stop thinking about it!
While I don't really eat dairy any longer, I made an exception for this dish. And man am I glad I did! Yummerzzzzz!!!!!
YOU MIGHT ALSO ENJOY:

Clean Eating Tomato Mushroom Pizza With A Cauliflower Crust
(Makes 12 servings – or 1 pizza the size of a standard cookie sheet)
Crust Ingredients:
3 medium heads cauliflower, steamed and cooled
6 egg whites
1 whole egg
2 tablespoons garlic powder
1 tablespoon Italian herb spice
Toppings:
1 (12 ounce) jar clean marinara sauce
6 large mushrooms, sliced thin
2 small tomatoes, sliced
1/2 cup parmesan cheese (the real stuff)
Directions:
Preheat oven to 425 degrees F.
Mix the crust ingredients together in a large bowl or pot, using a potato masher. Smash until well blended and somewhat smooth. A little lumpy is okay.
On a well oiled cookie sheet (one with sides, not the flat kind), spread the cauliflower out evenly and smoothly using a spatula.
Bake the crust for 3o minutes and remove from the oven.
Top your pizza with the above toppings or choose your own.
Return the pizza to the oven and bake until the mushrooms have wilted and the cheese is melted and just slightly browned.
Allow pizza to cool. Be very careful if you have kids eating this. The crust really holds on to the heat. So break it up for them and double check it.