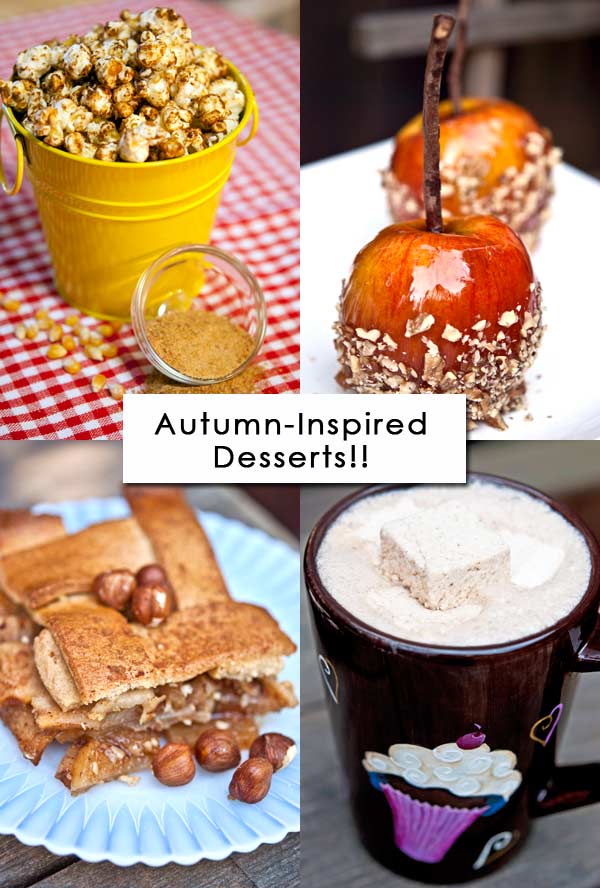 So it's fall, the leaves are turning, we have foggy mornings here in Sonoma County and I have a log in the fireplace. Something about this time of year really inspires the dessert recipes. Maybe it's all those wonderful spice combinations like pumpkin spice or apple pie spice, I'm not sure. But fall is my absolute, favorite time of year and it always seems to wake up my sweet tooth with a vengeance.
So ya, I have to be a little careful this time of year too. I have to be sure I don't overdo it! But that being said, if you can't enjoy a good dessert in this last, fading quarter of the year, when can you?
Today I'm asking clean eating bloggers from around the web to share their best autumn-inspired dessert recipes with you. Stop by their blogs and take a look!
Note to bloggers: Please be sure your recipes are in fact clean. 100% whole grain, unprocessed sugars such as honey (brown sugar is processed!), etc. Thanks! Also, this roundup will be only be successful if you share it with your readers after placing your link. Please tweet, Facebook, and even pin this roundup so we can all share our recipes with a wider audience. Thank you!! And lastly, if you would like to be notified every time a linkup is available, sign up here for an email notification. These linkups will happen every Thursday through the end of 2016.
THIS WEEK'S THEME:
Clean Eating Fall Dessert Recipes!