I've really been into Thai flavors lately. I go through phases quite often when all I want for an entire week or two is a particular type of food. I'm not sure why, but as long as I keep it clean, does it really matter? Nope, I don't think it does.
So I needed something to use up a couple of frozen chicken breasts I had in my freezer before they got freezer burn and this recipe was the result.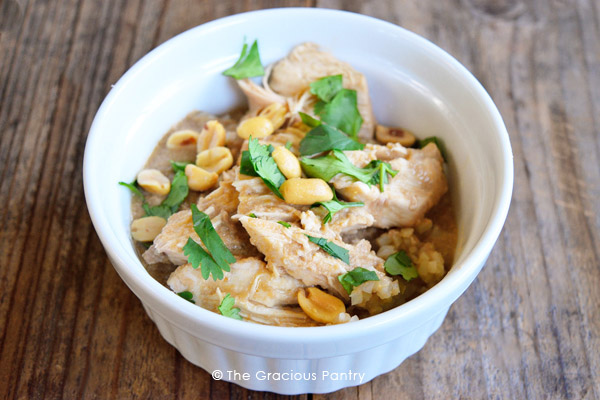 This video will show you how crazy quick and easy it is to make. Your oven does most of the work time-wise. Just mix all the sauce ingredients together and pour over frozen chicken breasts, then bake. Easy!!
RECIPE NOTES:
If you prefer a sweeter Thai flavor, feel free to add a tiny bit of clean sweetener to the sauce (to taste) after cooking. Sweeteners that would work well here are coconut sugar or even a few drops of pure liquid stevia.
Also, if you are particular about fats, be sure to use light coconut milk instead of full fat. The white chunks in the video are coconut fat from using full fat coconut milk. I prefer this, but if you don't, it won't hurt the recipe at all to use light. I really like the Whole Foods brand as well as Thai Kitchen. Both are clean, and the Thai Kitchen brand is pretty easily found. At least in my part of the world. If you can't find it, simply search in the ethnic food aisle of your grocery store. Read ingredient lists though because not all brands are clean. You only want it to have coconut milk in there. No fillers or sweeteners.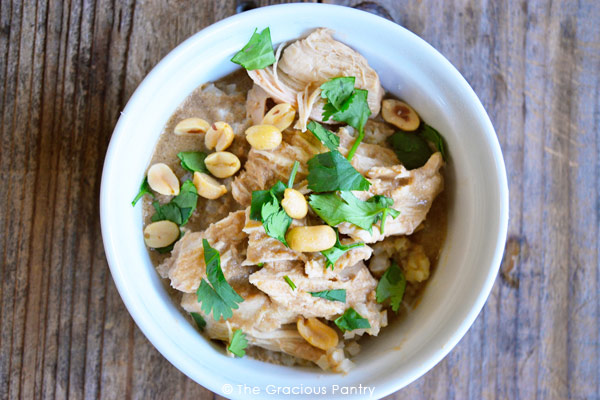 YOU MIGHT ALSO ENJOY:

Clean Eating Thai Peanut Chicken Recipe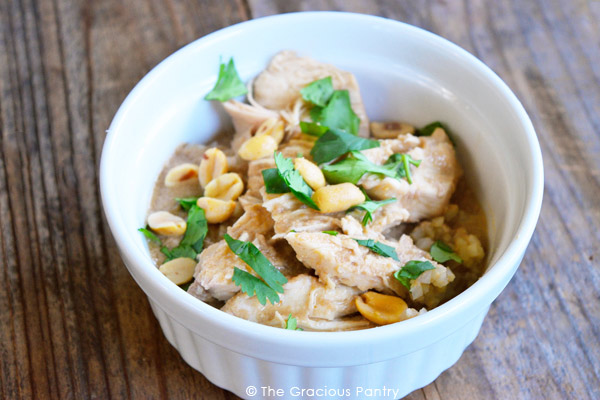 Author:
Tiffany McCauley | The Gracious Pantry.com
Ingredients
1 cups low sodium chicken broth, no sugar added
1 cup coconut milk (light or full fat)
1 tbsp. low sodium soy sauce or coconut aminos
2 tbsp. creamy peanut butter
1 lemongrass stick
½ tsp. ground ginger
2 frozen chicken breasts
Chopped peanuts and fresh cilantro for garnish
Instructions
In a mixing bowl, whisk together the chicken broth, coconut milk, soy sauce or coconut aminos, peanut butter, lemongrass and ginger.
Bake at 375 for approximately 60 minutes or until the chicken reaches and internal temperature of at least 165 F. on a meat thermometer.
Cool slightly, remove lemongrass stick and discard, then serve with sauce over brown rice or even riced cauliflower if you need to reduce carbs.