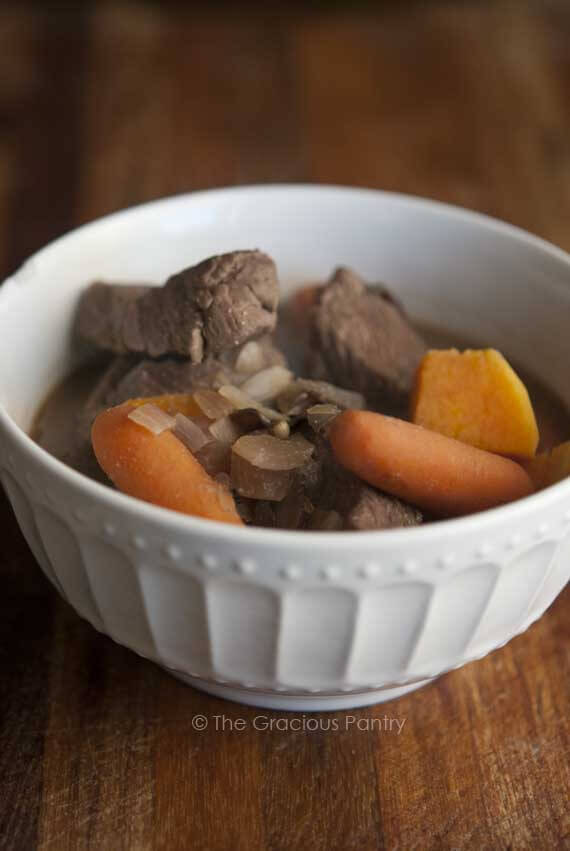 I've never had venison before. But any time it's been mentioned on my Facebook page, the response has been huge. There are a lot of you venison lovers out there!
Recently, the Michigan Venison Company contacted me about giving their venison a try. I have to admit that since I do not like beef, I was pretty hesitant to try it because people have always told me that the flavor is very similar.
But knowing how many venison fans I have that read my blog, I thought I'd give it a try at least once. I essentially treated it just like I would treat beef and it turned out really well.
I have to admit that I personally did not care for it. The broth was good, but I didn't like the meat. The boys in my house however…  To say it was a HUGE hit with them is a massive understatement! So I have to chalk it up to my dislike of beef and say that this recipe is a tasty alternative to beef stew.
I hope you enjoy it! And if you'd like to get in contact with the company or order your own package of venison, here is the company info:
MICHIGAN VENISON COMPANY
100% All Natural, Wild-Harvested Venison
Traverse City, Mich.
*For tasty recipes and wild game cooking gear, visit us online
YOU MIGHT ALSO ENJOY:

Clean Eating Sweet Potato Venison Stew
(Makes 3 servings)
Ingredients:
2 tbsp. olive oil
1/2 medium red onion, chopped
1/4 lb. baby carrots
1 small sweet potato, peeled and cut into stew-sized pieces
1/4 lb. mushrooms
3 cups low sodium chicken broth, no sugar added (homemade is best)
2 tsp. garlic powder
1 tsp. pepper corns OR black, ground pepper
1 tbsp. balsamic vinegar
1 bay leaf
1 lb. backstrap venison, cut into stew sized pieces
Salt to taste after cooking
Directions:
Saute the onion, carrots, and sweet potatoes in the olive oil.
Add in all ingredients except the venison and bring to a boil.
In a separate pan, brown the venison.
Once the sweet potatoes and carrots begin to soften, add the venison into to stew and cook until fully cooked through.
Allow to cool slightly and serve.