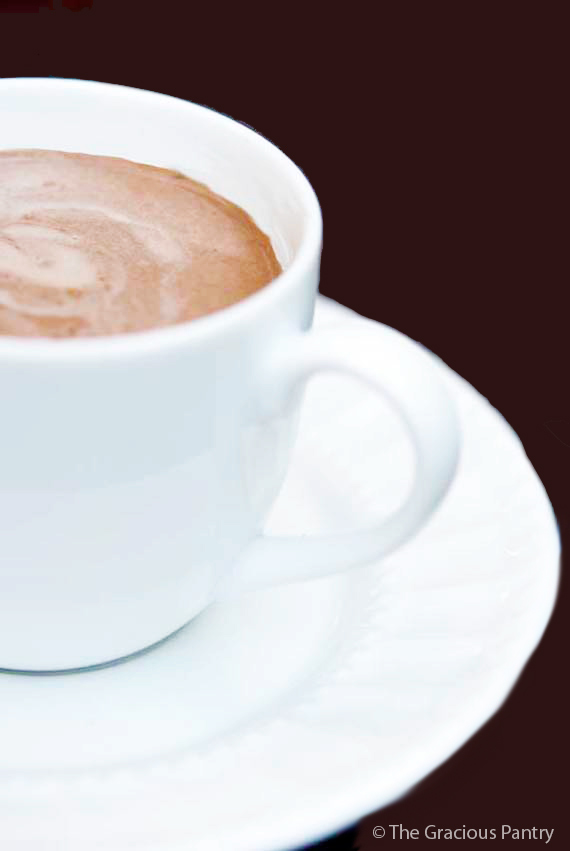 It's the day after Thanksgiving. Did you survive?
If you feel like you might need a little something soothing after a hectic holiday, try a cup of hot cocoa. Sweet Potato Hot Cocoa, that is.
I admit it. This sounded strange to me, and I'll try almost anything once. I mean really, who puts sweet potatoes in their hot cocoa???
But I ended up doing a little recipe research and found out with a quick google search that it is actually far more common than I realized. Sweet Potato Hot Chocolate recipes are in abundance on the internet, but most of them use chocolate syrup to get the job done.
This yummy, liquidy goodness is not really that different from regular cocoa. It's a tiny bit thicker due to the sweet potatoes and has a faint "zing" at the end from the cloves that is rather pleasant. It's thick and creamy and a wonderful after-dinner treat for kids of all ages. Especially on these cold nights we've been having! Brrrrrr!!
YOU MIGHT ALSO ENJOY:

Clean Eating Sweet Potato Hot Cocoa
(Makes approximately 9 servings)
Ingredients:
4 cups unsweetened almond milk
2 tablespoons unsweetened cocoa powder
1/2 teaspoon ground cinnamon
2 teaspoons vanilla extract
1/2 cup mashed sweet potato (no skins)
1/4 teaspoon ground nutmeg
1/4 teaspoon ground cloves
4 tablespoon honey
2 tablespoon pure maple syrup
Directions:
Microwave two small sweet potatoes for about 10 minutes, being sure to puncture holes in them with a fork first so they don't explode.
Being careful not to burn yourself, scrape out the insides into a blender and discard the peels.
Add all other ingredients and blend until smooth.
Warm in a pot or in the microwave in a microwave-safe cup or dish.
NOTE: I have a Vitamix blender. It's a high powered blender that gets things very smooth. If your blender is not high powered, this may end up being a bit more "textured" than most folks are used to.