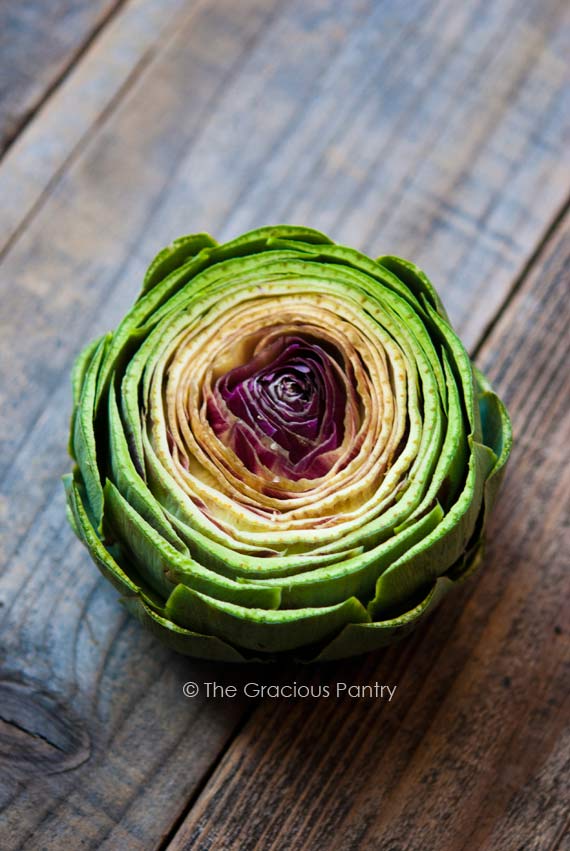 The artichokes are in full swing in these parts. I see them in every store I enter and for me and Mini Chef, it's a fabulous time of year. We both LOVE artichokes. In fact, when I first started making them last summer, we would often fight over who got the heart of the artichoke because I was silly enough to make just one.
Well, I've since learned the error of my ways. These days, I make sure that I make at least one artichoke per person. Maybe more if we have company.
Stuffed artichokes are a beautiful thing and this steamed version is no exception. This was my second time making them this way and none of us could get enough!
YOU MIGHT ALSO ENJOY:

Clean Eating Stuffed Artichokes
Author:
See process photos below.
Ingredients
3 large artichokes
1 large, yellow onion, chopped fine
1 head garlic, peeled and chopped fine
Instructions
Cut the tops off of your artichokes about 1/3 of the way down. Then clip the spikes off the remaining leaves with kitchen scissors so you don't poke yourself.
Pull the leaves of the artichokes back to loosen them up enough to get the onions and garlic in between the leaves. Mix the onions and garlic together.
When they are as stuffed as you can possibly get them, place them in a steamer pot and cook for about 45-55 minutes, or until the leaves in the middle are easily plucked out. Cool slightly and serve with your favorite, clean dip.