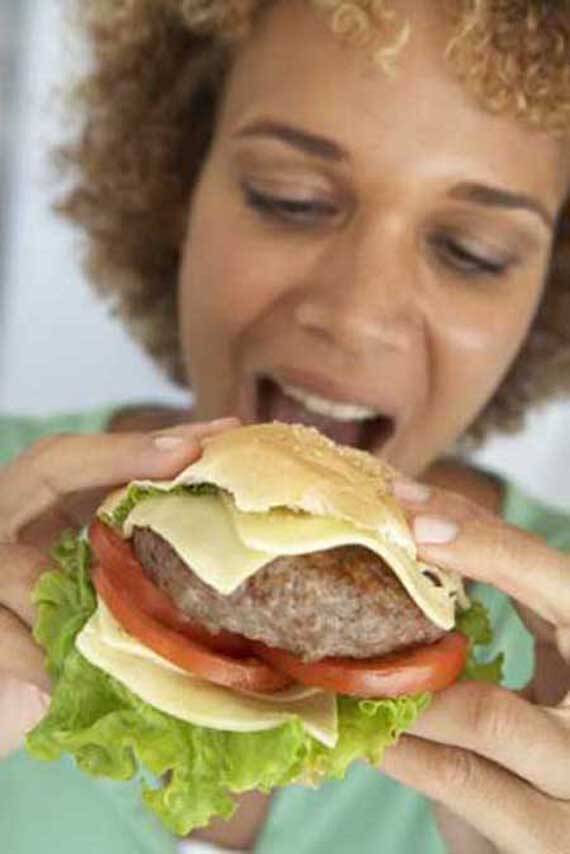 Stress eating has always been a problem for me. For whatever reason, food is the first thing I turn to when life turns up the heat. And I'm not alone!
Stress eating effects many people in America particularly. While there are those lucky few who actually manage their food intake during times of stress, there are many more who look to their refrigerator for comfort when things go wrong.
So how do you cope?

What does stress do?
While a little stress can be a good thing, a lot of stress (especially when it goes on for extended periods of time) can have the following effects on our health:
depression
diabetes/ obesity
ulcers
Loss of hair
heart disease
hyperthyroidism
anxiety
sexual dysfunction
tooth and gum disease
What is "stress eating"?
"Stress or emotional eating, to me, is impulse eating. Impulse because one does not think before diving into the food of choice. This type of eating is almost done unconsciously, usually ending in remorse or more unhealthy food choices."
~ Lori @ runlori.blogspot.com
"I define stress eating as a way of filling a void in your life. Stress eating is a way to try and alleviate a pain or emotional problem in your life with something that is comforting"
~ April @ Foodsofapril.com
So what is a stress eater supposed to do?
"Do not keep sugar in the house or any other "trigger" foods for that matter. Find other ways to cope with stress or drama in your life, activities that don't involve food."
~ Heather @ heathereatsalmondbutter.com
"I would suggest that if a person is in a stressful situation (or knows that they will be entering into one) to have clean snacks ready and measured out…snacks that they really like, so they don't reach for unclean foods such as chips and cookies. "
~ Jessica @ fitandclean.wordpress.com
Tips for handling stress that don't involved food:

take a walk (this was the #1 suggestion)
cook a clean meal
exercise

call your mom or best friend

go to a movie

give yourself a manicure and/or pedicure

hang out in your local coffee shop and read trashy, celeb magazines
do some yoga
take a warm bath
cuddle
Here are some suggested comfort foods to turn to in times of stress, when nothing but food will do:
Break out your juicer and juice yourself something yummy.
Whole grain bread topped with clean nut butter and sliced banana.
Soup (the ultimate comfort food in my book!)
Smoothies (use kefir and fruit with a dab of agave. Just like ice cream!)
"Personally, I like to make my homemade trail mix: (raw cashews, raisins and cacao nibs), or eat an apple with natural nut butter, or if chocolate is what you want make some chocolate peanut butter oatmeal (1 serving of oatmeal, 2 Tb of unsweetened chocolate, 1 Tb honey, and 1 Tb natural nut butter). Throw in some protein powder (amazon affiliate link) and you have a complete meal 🙂 Clean comfort food for stressful situations that is good for you!" (Jessica @ fitandclean.wordpress.com)
"I think the best foods would be some type of complex carb or healthy fat to release serotonin. Possibly oatmeal, brown rice, nuts, avocados, or dark chocolate to name a few." (April @ Foodsofapril.com)
Any way you look at it, stress eating can impact your clean eating plan. And yes, it IS possible to eat clean AND gain weight. In the end, calories are calories. If you are drowning yourself in clean eating chocolate sauce or pouring on a whole bottle of agave over a gigantic bowl of shredded wheat, chances are you are doing some amount of damage.
But that said, those choices are a heck of a lot better than turning to a bag of Doritos like I used to do.
It's not easy learning to turn to clean food instead of junk food. But with a little practice, and some readily available and clean food that you find really yummy, you can slowly train yourself to turn to healthier choices in times of stress.
This is a process I'm going through now. I truly don't believe (for me anyway) that the impulse to eat when stressed will ever go away. It's like trying to get rid of your impulse to eat when you're honestly hungry. There's just no way you're going to get rid of that feeling. And so it is with stress eating.
Learning to manage the foods you eat and the quantities you eat them in is a matter of retraining your brain and your impulses. It takes work, but it is doable.
Article is an original work and is © Tiffany McCauley. It may not be reproduced for any reason without written permission by the author.