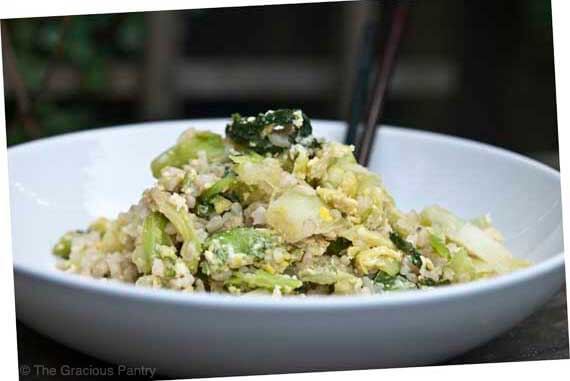 I'm not a complicated cook. If a recipe is overly fancy or requires exotic ingredients, it immediately gets filed in the "round file" (garbage). I just do not have the patience to learn 10 Ways to Wield My Butane Torch in the Kitchen or what exactly happens to taste, flavor, color, texture and consistency when you flambé foods. Not that these types of techniques and information are a bad thing, I just don't have time for them!
When my husband is due home in 30 minutes, Mini Chef is screaming at me from across the house that he's hungry, and I have 3 hours of homework haunting me for the evening, fancy food is the last thing that is going to come out of my kitchen. I need quick, clean, and delicious.
I love this recipe for its simplicity. It's a wonderfully complete meal that's light in the tummy (I hate it when I feel like I just ate a brick!), and comes together fast. In my humble opinion, it's a fantastic weeknight meal.
P.S. – this is a "one-pot-dish" if the rice has already been cooked. I used leftovers from two nights before.
YOU MIGHT ALSO ENJOY:

Clean Eating Stir Fry
(Makes 7-8 servings)
Ingredients:
4 small bok choy, separated and cleaned
1/2 small green cabbage
3 cups cooked brown rice (cooked with chicken broth/stock or veggie broth/stock, not water)
4 large eggs
1/2 cup clean chicken broth/stock
1 tablespoon garlic powder
1 tablespoon onion powder
Low sodium soy sauce to taste
Directions:
Pour the 1/2 cup chicken broth/stock into a large pan and turn on the heat.
Add your bok choy and cabbage. Cook until wilted
Add spices and eggs. Cook until eggs are completely cooked.
Stir in rice and mix well.
Serve and sprinkle with a small amount of soy sauce.