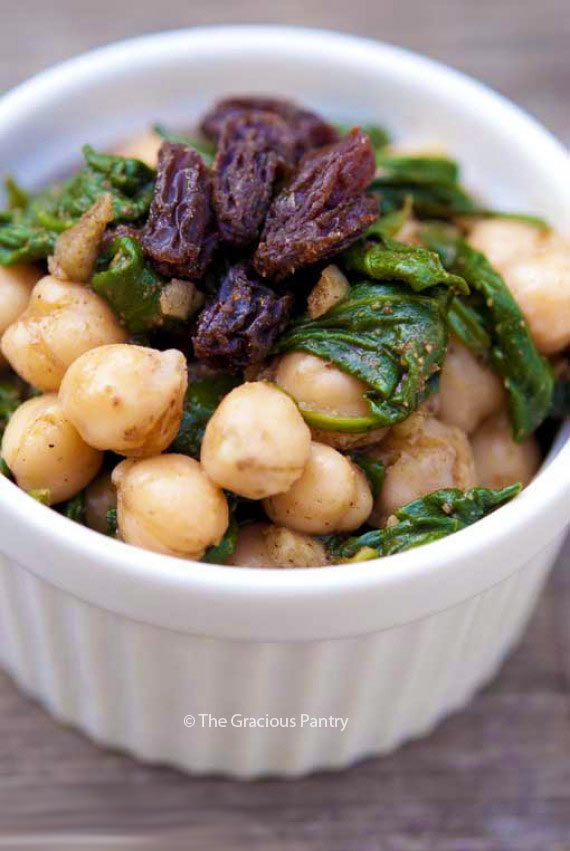 While this recipe was intended to be a side dish, I must admit, I had almost all of it for dinner.
It goes great with chicken, or just about any other meat. But alone, it makes quite a nice meal. Especially if you eat both servings like I did! In fact, I believe this would make a wonderful, light, "Meatless Monday" lunch OR dinner!
It's great for a take-along lunch too. I actually made another batch and took it for lunch the next day. Ya, I liked it that much! It's a great, high-fiber meal at home or on the go!
YOU MIGHT ALSO ENJOY:

Clean Eating Spinach & Chickpeas
(Makes 2 servings)
Ingredients:
1 tablespoon olive oil
6 cloves garlic, chopped
1/4 cup raisins
4 cups raw spinach, packed tight
2 teaspoons ground cumin
1 teaspoon ground cinnamon
Juice of 1 lemon
1 cup cooked chickpeas
Salt to taste
Directions:
In a large pan, sauté the garlic in the olive oil for about one minute.
Stir in the raisins and briefly stir with the garlic.
Quickly add the spinach, cumin and cinnamon.
Cook until the spinach has wilted.
Stir in the beans and lemon juice and cook for about 2 minutes to warm the beans.
Add salt to taste and serve.