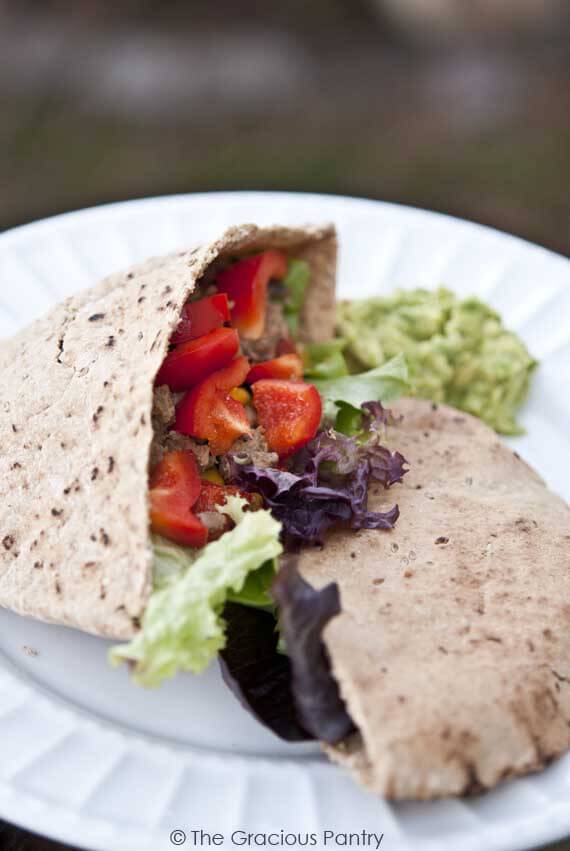 Pita pockets are a fun meal to eat. And by fun, I mean messy. But the truth is, they're kinda worth it.
Pitas are great because you can pack them with just about anything and you can pretty much count on the fact that they will be yummy.
I've been on kind of a Southwestern kick lately, so I thought I'd see if I could put something southwestern in a pita. It worked out really well, and dinner was very filling that night. Mini Chef didn't care for it simply because it was messy to eat. He's pretty picky about stuff like that. But he did like the flavor and so did I.  It won't be the last time I make these. Only next time, I think I'll roll it into a burrito for Mini Chef.
YOU MIGHT ALSO ENJOY:

Clean Eating Southwestern Pita Pockets
(Makes approximately 6 servings)
Ingredients:
1 small red bell pepper, chopped
1/2 large red onion, chopped
8 cloves garlic, chopped fine
1 tbsp. olive oil
1 1/2 lbs. lean ground turkey meat
1 cup frozen, organic corn
1 tbsp. ground cumin
1 tbsp. chili powder
Spring mix or lettuce
Fresh chopped tomatoes
Avocado or guacamole
Directions:
In a large skillet, sauté the bell pepper, onion and garlic in the olive oil until soft.
Stir in the ground turkey.
Once the turkey is browned, add the corn, cumin and chili powder. Cook until everything has cooked through (about 15-20 minutes).
Stuff this filling into your pita pocket along with some lettuce, tomatoes and guacamole.
PREPARATION TIME: 20 minute(s)
STANDARD DISCLOSURE:
In order to support this blog, I may receive compensation or other types of remuneration for talking about products or services and/or providing a link to said products or services from this blog. However, all opinions are my own and I will only endorse those products or services which I truly feel are of value to my readers. I also use affiliate links in some of my posts for companies such as for Amazon.com, eMeals.com or LaptopLunches.com, among others. I can take no responsibility for how those companies do business however.