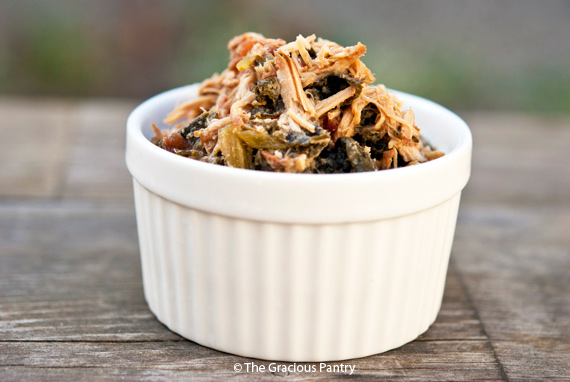 Just when I was thinking about packing away my slow cooker for the season, mother nature blasts us with a week long downpour of slow cooker weather. But I won't complain since this delicious dinner was the result.
I find myself not eating a lot of meat right now. I just don't want it or crave it. But when I cook it in a slow cooker, it's a completely different story. It's just so good and moist and shreddable!
I love shreddable meat. There's just something about the texture that really does it for me. And while I know some of you don't feel that pork fits in with a clean eating diet, for those of you that do eat pork, this one is completely delicious!
Just please know that you should always purchase the best quality pork you can afford. Standard pork these days is pretty nasty stuff. So if there is one place to spend more money, the pork department would be a good bet.
YOU MIGHT ALSO ENJOY:

Clean Eating Slow Cooker Pork & Kale
(Makes about 9 cups)
Ingredients:
2 1/2 pounds pork loin chops
7 cups chopped, raw kale
1 (28 ounce) can diced tomatoes, no sugar added
2 tablespoons garlic powder
1 tablespoon onion powder
1 tablespoon balsamic vinegar
Directions:
Place everything in your slow cooker, pork chops on the bottom layer and tomatoes on the top layer.
Cook on low for 8-10 hours.