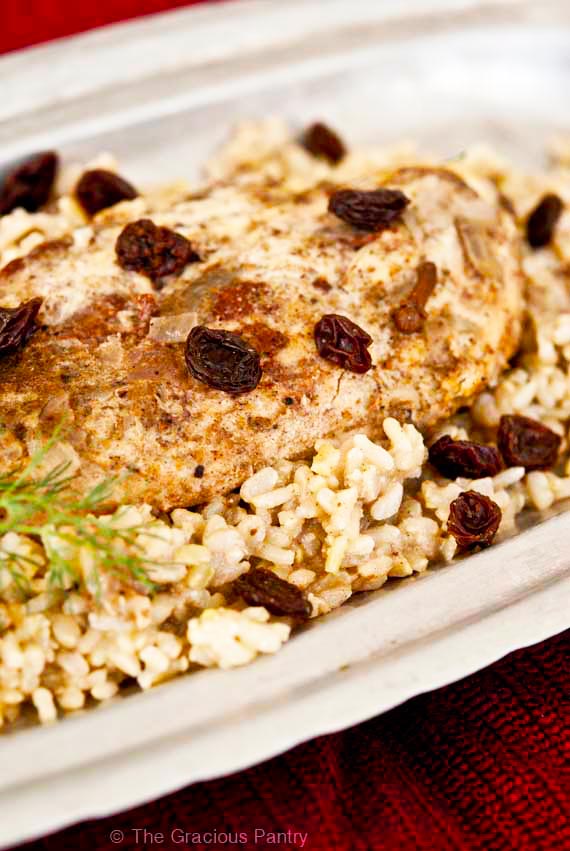 This dish has been attributed to both India and Pakistan. But regardless of it's origins, it's definitely a fabulous way improve upon "the same ol' chicken" you make week after week.
I made this for my mom the other night. Normally, this would not be something I would mention except for the fact that this is the first dinner that I have ever cooked for her.
I did do a spaghetti dinner for her birthday once, but I don't think that really counts. All I did was cook pasta and open a jar of spaghetti sauce. Not quite the same as cooking a dinner from scratch in my humble opinion.
The funny part was, she was actually surprised that it tasted good. Not because she isn't used to clean foods (she actually eats quite healthy), but because she didn't realize I could actually cook!
What she thinks I do for a living is really beyond me. I overheard her on the phone the other day telling her friend what I have been up to. "Oh, she's working on her page…. or blog…. or whatever it is she does there…" Gotta love Mom!
I guess some day I should try to sit her down and explain it to her, but then I would miss out on overhearing things like the above quote. I guess sometimes you just have to shake your head and smile.
NOTES ON THE RECIPE: I think the next time I make this, I may add some golden raisins and almonds as a topping. I think the crunch of the nuts and the sweetness of the raisins would be a wonderful accompaniment. I will say that a little salt goes a long way to bringing out the flavors of the spices. Best to add it after cooking though as slow cooking tends to dull the effects of salt which can result in using far more than you intend to.

Clean Eating Slow Cooker Biriyani Chicken Recipe
Author:
Ingredients
1 medium red onion, chopped
1 tablespoon coconut oil
1 (15 ounce) can light coconut milk
1 tablespoon garlic powder
1/2 teaspoon nutmeg
1/2 teaspoon cloves
1 teaspoon cardamom
1 teaspoon cumin
1/2 teaspoon cinnamon
1 bay leaves
1 teaspoon coriander
1/2 teaspoon ginger
1/2 teaspoon mace
2 large, boneless, skinless, raw chicken breasts (about 7 ounces each)
Salt to taste after cooking (this really does need it to bring out the flavors)
OPTIONAL TOPPINGS:
Raisins
Almonds
Instructions
Saute the onions in the coconut oil until translucent.
In your slow cooker, combine the coconut milk and all spices.
Stir well to combine.
Place your chicken breasts an onions in the sauce and cook on low for 4-6 hours.
The chicken is done when it easily falls apart when pulled at with a fork.
Traditionally, this is served over rice (brown rice for clean eaters) and with a boiled egg on the side.