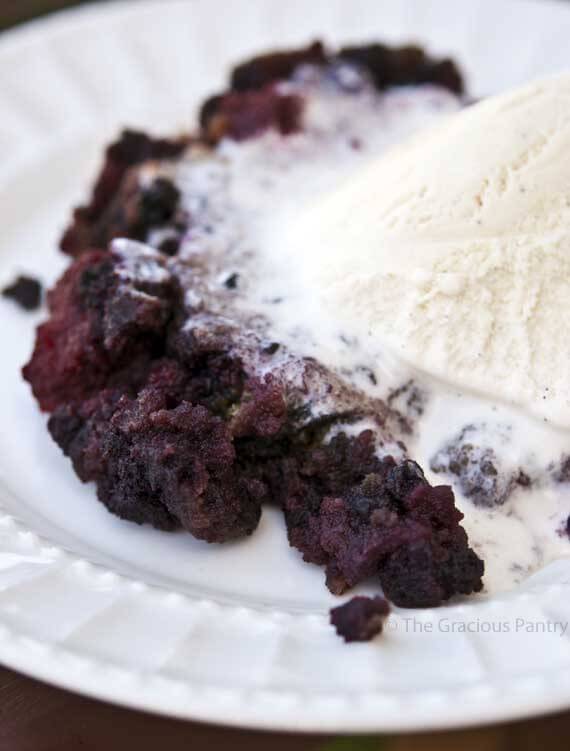 Berry cobbler is excellent stuff. But add to that the convenience of a slow cooker and the removal of grains, and it kinda skyrockets to a whole other level. At least in my personal opinion anyway.
I found a recipe on the TastOfHome web site, and thought it was just sort of calling out for me to "clean up". Glad I did too!
Cleaning this up would not really have been a problem. In fact, it would have been fairly simple with a few minor adjustments. But making it grain free, well that was something all together different. I wasn't sure if an even equivalent of flours would work. Thankfully, I hit a home run on my first attempt which is a really good thing because I liked this so much, I probably would have eaten an entire second batch. And I'm trying really hard to overeat on veggies if I must overeat. So having desserts sit around is just not an option!
Recipe Notes: The original recipe called for a 5 quart slow cooker, so that's what I cooked it in. While it turned out good, I think it would have been a little better in a 4 quart. If you make this in a 5 quart, be prepared to have the "dough" on the bottom be very thin. Which is not, in and of itself, a bad thing. It certainly worked out well for me. Just letting you know because it will seem like there really isn't enough to cover the bottom of the slow cooker.
Also, I'm sure some of you will be curious about the ice cream in the photo. This was an ice cream recipe that I tried for the first time. It's not ready to be posted here on my blog yet, but as soon as I get it right, I promise to share.
YOU MIGHT ALSO ENJOY:

Clean Eating Grain Free Slow Cooker Berry Cobbler
(Makes 8 servings)
Ingredients:
1 cups almond flour (approximately 1/4 pound almonds)
3/4 cup sucanat (amazon affiliate link)
1 teaspoon baking soda
1/4 teaspoon ground cinnamon
1 large egg, lightly beaten
1/4 cup coconut milk (regular milk will work fine too)
2 tablespoons coconut oil (any light flavored oil will work as well)
1/8 teaspoon salt
1/4 cup coconut flour
2 cups fresh or frozen raspberries, thawed
2 cups fresh or frozen blueberries, thawed
Directions:
Using a large mixing bowl, whisk together the almond flour, sucanat, coconut flour, baking soda and cinnamon.
In a medium mixing bowl, whisk together the egg, milk, and oil.
Using a wooden spoon, combine the wet ingredient with the dry ingredients in the large mixing bowl and stir to combine. Do not over mix.
Spray your slow cooker pot with an oil sprayer and pour the batter into the slow cooker, being sure to spread the batter out evenly over the bottom of the pot.
Pour berries gently over the top, being sure to cover as much area as possible.
Cover and cook on high for about 2 hours.
Allow to cool slightly before serving.