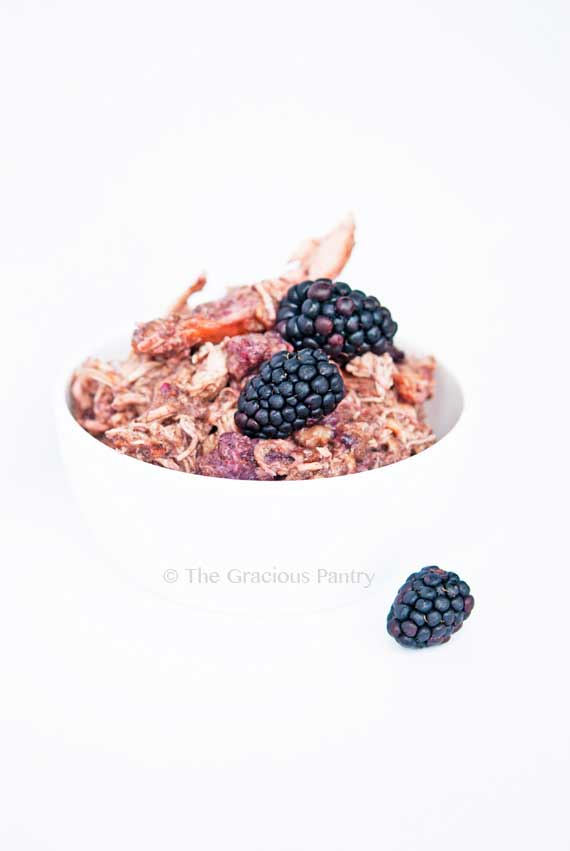 I know, blackberries and chicken sound a little odd together. But I promise, this is good!
This summer is a hot, dry summer in Sonoma County. Despite getting a nice downpour of rain this past winter and spring, we are still in a drought.
The last thing I want to do is turn on the oven to make dinner. So my slow cooker tends to come out every so often during the hotter months. There's just no better way to get a cooked meal on the table when the kitchen is already roasting all by itself!
I like this because it uses seasonal fruit, and flavor is a bit tangy and sweet. If you need it to be sweeter, I recommend adding in a tiny bit of unrefined sugar to taste.
This makes a great main course with some brown rice or even just a salad. In fact, a green salad with this and maybe some additional berries, like strawberries and a nice vinaigrette would make a fabulous summer-time meal!
YOU MIGHT ALSO ENJOY THESE CLEAN EATING RECIPES:

Clean Eating Slow Cooker Balsamic Blackberry Chicken
 Recipe
Author:
Ingredients
2 boneless, skinless chicken breasts
6 oz. package fresh blackberries
3 tbsp. balsamic vinegar
1/4 tsp. garlic powder
Instructions
If serving to guests, reserve 2-3 blackberries as garnish for the plate.
Place the chicken breasts in the bottom of the crock.
Pour in the vinegar, sprinkle on the garlic powder and then add the blackberries last.
Cover and let cook on low for 4 hours.
This recipe is formulate for a small yield. It is best prepared in a small, 1 or 1.5 qt slow cooker. If your slow cooker is larger, double or triple the recipe to accommodate.