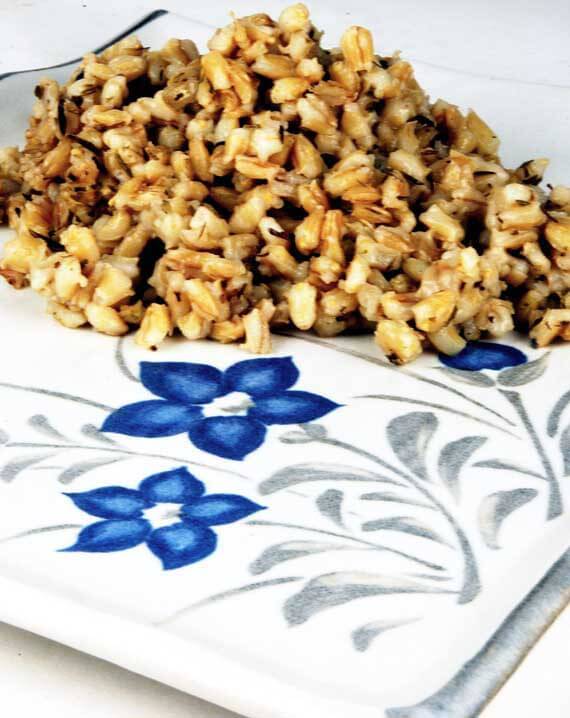 I bought a bag of barley, not really knowing what I was going to do with it. I brought it home and it sat on the counter staring at me for a week. Every time I walked by the kitchen, there it was. Just begging to be part of that night's dinner.
I like barley because it has a little "pop" to it when you bite into it. Almost like corn, but softer. It's a fun grain to eat if you're into textures at all.
So finally I gave in. I looked up what herbs would go well with it in The Flavor Bible
, and finally settled on this little concoction. Pretty tasty for being a last minute addition to dinner! I served it with chicken and cauliflower.
Clean Eating Savory Barley
(Makes approximately 4 cups)
Ingredients:
1 cup hulled barley
2 1/2 cups water
2 teaspoons savory
1 vegetable bouillon cube ( I use the Rapunzel brand.)
Directions:
Place water, savory and bouillon cube in a pot and bring to a boil.
Add barley and return water to boil.
Once it boils, reduce heat to simmer.
Simmer until all the water is cooked out (about 30-45 minutes)
Nutritional Content:
(Data is for 1 cup)
Calories: 171
Total Fat: 2 gm
Saturated Fats: 0 gm
Trans Fats: 0 gm
Cholesterol: 0 gm
Sodium: 38 mg
Carbohydrates: 35 gm
Dietary fiber: 8 gm
Sugars: 0 gm
Protein: 6 gm
Estimated Glycemic Load: 16
Please Note: Nutritional information estimated at Nutritiondata.com. Data may not be accurate and is subject to the availability of specific foods in their database. Where one ingredient is not listed, substitutions must be used. Therefore, you should not refer to this data as being exact. It's more of a ballpark figure. The Gracious Pantry does not take responsibility for the inadequacies of the nutrition calculator used. This data is provided as a courtesy and general reference only. It is not exact.