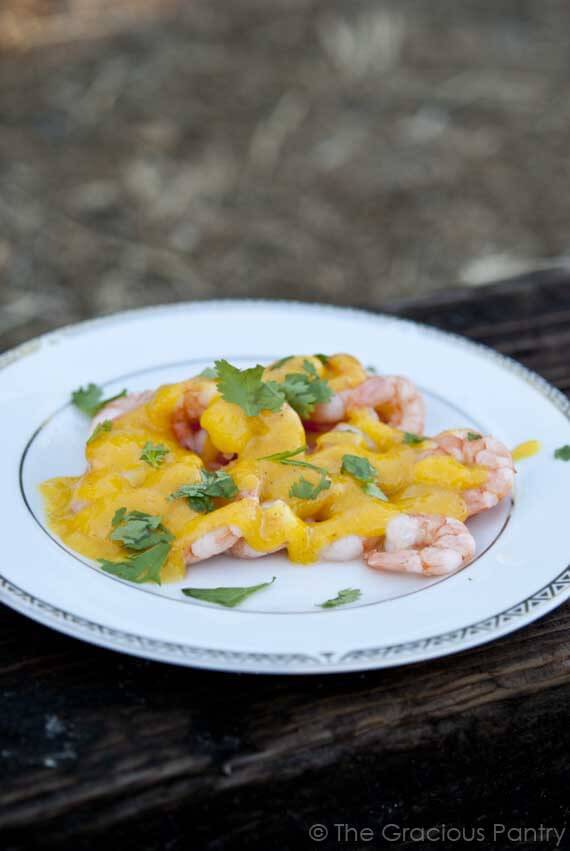 One thing I'm pretty good at cooking is shrimp. In fact, I'm getting a lot better at cooking seafood in general. Thank goodness, it sure took me long enough to figure it out!
But shrimp in general I have found to be pretty forgiving. I've cooked it many different ways and I'm happy to say that no matter what I've done to those little shrimpies, they've always turned out delicious. Can't ask for more than that!
This recipe is one I've been meaning to do for a while, but somehow it always ended up at the bottom of my to-do list. Thankfully, it got moved up to the top of that list the other night when shrimp was the only protein left in my freezer.
You could do a couple different things with this. Serve it as is (like I did), or serve it over some lettuce and simply use the sauce as more of a dressing. Putting this over some brown rice would be another delicious option. You really can't go wrong with this one! But my favorite idea is to serve this up at a party. I would put a few shrimp in a cupcake paper and drizzle a little sauce over the top. Then stick a toothpick into one of the shrimp and serve. Yum!
RELATED READING:

Clean Eating Sautéed Shrimp with Mango Lime Sauce
(Makes approximately 8 servings)
Ingredients:
1 medium mango
2 tablespoons lime juice
1 teaspoon garlic powder
1/2 teaspoon onion powder
1/8 teaspoon cayenne pepper (or more if you like)
Salt to taste
2 pounds pre-cooked shrimp
1 tablespoons coconut or olive oil
Fresh, chopped cilantro for garnish
Directions:
Blend the mango, lime juice, salt, garlic powder, onion powder and cayenne pepper in a blender until you have a nice smooth sauce. Adjust spices to your liking.
Sauté the shrimp in the oil until warmed through.
Put the shrimp on a plate and pour the sauce over them.
Garnish with fresh cilantro and serve.